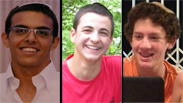 Gil-Ad, Naftali and Eyal. No longer names and small profile pictures which are quickly forgotten
Photo: Shaul Golan
Despite the slim chance, the pessimistic estimates, the very little hope, there wasn't a single person who heard the bad news Monday evening – many even before it was officially cleared for publication – and did not respond with those same words: Oh, so sad.

In this respect, there was no difference between the land of the settlers and the state of Tel Aviv. No one, regardless of political views, remained indifferent to the horrible death of three teenagers, two of whom studied in a yeshiva for high school students, who were murdered on their way home from school. No one remained indifferent to the cruelty of the fog of uncertainty in which the murderers abandoned the boys' families.

Israelis sing a song for peace at Rabin Square (צילום: ניקולה סימונדס )

One can only guess that in the coming days, when the details are revealed, the anger and frustration will grow.

After 18 days, these are no longer names and small profile pictures which quickly fade away from our eyes and hearts, like what usually happens in tragic events. This story went way beyond the private story of three families, and everyone felt like it was their neighbor's son, even if those neighbors live or study on the other side of the Green Line. There was no need to ask the public to pick up a Book of Psalms and pray for the teens' safety. Each person did it his own way.

US Rally

Hundreds gather outside Israeli Consulate in Manhattan, many saying they had come because the felt powerless and wanted to express support.

In the 18 days that have passed, we got to know the childish faces very well and link a name to a picture. We got to know to Gil-Ad's sweet smile, Naftali's ginger hair and Eyal's glowing face. We were exposed to quite a few details about their short life, about their lifestyle, about their friends and hobbies.

We got to know three mothers who did not let the horrible shock they suffered stop them from fighting like lionesses to find their children. We got to know their facial features, we listened to their covert feelings, we were impressed by their nobility, we were amazed by their mental strength.

I believe that their picture, three women connected by a tragic fate, holding hands and supporting each other at the entrance to the United Nations Human Rights Council meeting in Geneva, will be engraved in our collective memory.

But the feeling of solidarity and shared fate which washed over the country in the past two weeks will not last forever. And even if we got to know three unusual families and teens who do not match the accepted stereotype, this tragedy is unlikely to change views.

Those who believe Israel must end the occupation and return to the 1967 borders with border changes – I doubt this incident made them think otherwise. On the contrary: The need to separate from the Palestinians and establish two states living side by side appears even more urgent. And those who believe in a proper Zionist response of exerting force, expanding construction, annexation and continuing our control of another people – their views have only grown stronger.

We can only hope that in the cabinet, which convened Monday night, the voices coming from the head will overpower the voices coming from the stomach, that the moderate ministers will restrain the hot-tempered ones, that the anger and frustration felt by many of Israel's citizens will be directed in the cabinet at constructive measures and not at a demand for revenge and ongoing violence.

There are all sorts of ways to achieve deterrence and punish Hamas without harming the Palestinian Authority, especially after Mahmoud Abbas' courageous comments about the kidnapping. Even the kidnapped teens' mothers had the grandeur to praise the Palestinian president during Sunday's solidarity rally.

If Netanyahu sought to expose Abbas' face, this tragic event appears to have exposed it, but not necessarily in the way Netanyahu expected. Unfortunately, it probably won't make any difference.