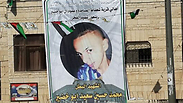 Muhammad Hussein Abu Khdeir
Photo: Hassan Shaalan
Violent protests by Palestinians broke out in Jerusalem Friday as a Palestinian youth some believe was killed by far-right Israelis was laid to rest. Reports from the field indicated that 35 people were lightly injured after heavy clashes with police who initiated riot control measures to disperse the violent crowd.

Meanwhile, the boy's father spoke to Ynet and said he demanded Israel find his son's killer and destory his house, as it did for the killers of the three Israeli teens found dead after being presumed kidnapped since June.

Hostility that had simmered since Eyal Yifrach, Gil-Ad Shaer and Naftali Frenkel were abducted on June 12, triggering army sweeps of the West Bank, boiled over this week upon the discovery of their bodies and the Palestinian's slaying after they were laid to rest.

Related stories:

Israeli police deployed extra forces in Jerusalem ahead of the funeral on Friday afternoon of Muhammad Hussein Abu Khdeir, the slain 16-year-old Palestinian. Israel also barred men under the age of 50 from al Aqsa mosque complex.

After the boy's murder Tuesday, violent protests broke out in the West Bank in Jerusalem, sparking fears his death would push the already tense region over the edge.

Arab youths and police forces clashed in several areas in Jerusalem's Old City including the Temple Mount, ahead of the funeral of Muhammed Abu Khdeir, the Palestinian youth killed in a possible Jewish revenge attack.

His funeral began as soon as the traditional Friday Muslim prayer ended, and thousands were expected to attend.

During the funeral Dozens of Arabs youths, some wearing masks, clashed with police forces as Muhammad Abu Khdeir was laid to rest.

The youths pelted police forces with stones in the Ras al-Amud and Wadi al-Joz neighborhoods, while police forces attempted to disperse the protest by firing stun grenades.

Many around the world have urged restraint by Israel over the killing of the three Jewish seminary students, which Netanyahu blames on Hamas men in the West Bank who are still at large. Hamas neither confirmed nor denied involvement.

Israelis were incensed at the deaths. Scores of ultra-nationalists went on anti-Arab rampages, scuffling with police. Hours after the three teens' televised funerals on Tuesday, Abu Khdeir was abducted in Jerusalem. His charred body was found in a forest on Wednesday.

Abu Khdeir's family and other Palestinians, including President Mahmoud Abbas, said he was the victim of a Jewish vendetta and that Netanyahu's right-wing government bore responsibility. Netanyahu called the killing "loathsome" and ordered a swift police investigation to find the culprits.

But with Israeli authorities saying they did not yet know whether Abu Khdeir was indeed the victim of a hate crime, angered Palestinian protesters clashed with police in Jerusalem's sweltering summer heat on Wednesday and Thursday.

The IDF said it had jailed four soldiers for posting anti-Arab messages on social media. A police spokesman said the force's cyber-crime unit was also cracking down on racial incitement online, whether by Jewish or Arab citizens.

Israel's Arab citizens for the part have begun to keep guard over mosques and schools in communities in the Little Triangle area - an area concentrating a large number of Arab communities in the north.

"In certain areas we spoke with religious and community leaders and asked them to be on alert and keep their eyes open, and suggested that people keep watch over mosques so no harm will come to them," a senior police official told Ynet.
'My boy was killed'
Hussien Abu Khdeir, the murdered boy's father, spoke with Ynet and rejected claims put foward by some Israelis that the boy was not killed for political reasons, but rather as part of a domestic issue or 'honor killing'.
Hussein Abu Khdeir (Video: Hassan Shaalan_ (צילום: חסן שעלאן)
"Whoever says that is a liar, these are people without honor," he said.
He went on to claim his boy was killed by "fascist murderers". While my boy was kidnapped he cried for my help and for me to save him. People who were nearbye heard his cries, he said 'Dad, dad, save me. My beloved son was kind to everyone, and now I fear for my life and the life of my family."
He urged Prime Minister Benjamin Netanyahu to find the killers and try them like they would any other killer. "I hold the government responsible for what is happening to us. I demand Benjamin Netanyahu demolish the house of whoever killed by son, like he destroyed the homes of behind the murder of the three Israeli teens."
Netanyahu urged restraint on Thursday amid calls from the right to take revenge on the Palestinians for the murder of Eyal Yifrach, Gil-Ad Shaer and Naftali Frenkel and also condemned the murder of Abu Khdeir.
"I unequivocally condemn the murder of a Palestinian youth in Jerusalem a few days ago," he said.
"The police investigation is ongoing. We don't know yet the motives or the identities of the perpetrators but we will. We will bring to justice the criminals responsible for this despicable crime, whoever they may be. Murder, riots, incitement, vigilantism – they have no place in our democracy," he continued.
President Shimon Peres, who also spoke at the event, also urged restraint, calling both Israelis and Palestinians to "respect the law" and "avoid incitement".
Reuters contributed to this report