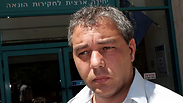 Ronel Fisher
Photo: Yariv Katz
A top Israeli lawyer with strong connections in the police was arrested Thursday, moments after taking possession of a suitcase filled with $150,000 in bribes that he said would be used to bribe police officers. Details of the arrest emerged after a gag order on the case was lifted Sunday.

Ronel Fisher is believed to have used his ties to the police to pass on sensitive information to those under investigation – for a price.

The chairman of the Ashdod port workers union, Alon Hassan, was responsible for the lawyer's arrest in a sting operation led by the Justice Ministry's Police Investigation Unit.

"Give me $150,000 and I will solve all your problems," Fisher allegedly told Hassan, the union boss at the center of his own corruption probe first revealed two months ago. When Hassan left the coffee house where he had Fisher, police swooped in to arrest the lawyer.

During his remand hearing, prosecutors claimed Fisher had used his connections to senior police officials, some of whom he had even represented, to pass on to Hassan information regarding the investigation into port corruption, as well as making an offer to put the investigation to rest.

Prosecutors also claimed that Hassan had received advanced warning from Fisher regarding a police plan to raid the port, giving port officials time to hide potentially incriminating evidence.

The Police Investigation Unit claims to have evidence detailing which police investigators had received monies to end the probe into Hassan'a activities; they also claim that Fisher had very close ties with the commander of the police's anti-fraud unit – Lahav 443.

Ynet has learned that one such senior police officer from Lahav 443 even met and traveled abroad with Fisher. According to information obtained by Ynet, the officer was the chief investigator into the port scandal, and was working on the case against Hassan when he and Fisher met abroad.
Double agent
The central police suspicion in the port corruption investigation is that Hassan used his position and power to force companies operating at the port to only use Dana, a port logistics and operations company owned by his relatives.

Following his own arrest, Hassan claimed Fisher offered to use his police connections to get the charges against him dropped. The police demanded evidence and Hassan agreed to wear a wire and meet with Fisher.

Hassan knew Fisher's offer to be genuine as Fisher had previously provided him with information regarding the investigation into the port, even supplying him with exact details and warning him in advance that he would be arrested.

The police now suspect that Fisher was in fact a "double agent", giving Hassan details into the police's workings while also providing the police with information about his client.

On Thursday, Hassan set up a meeting with Fisher to which he arrived wearing a wire and carrying a suitcase containing $150,000 given to him by the police. Once investigators had Fisher on tape admitting to his connections within the police, they decided to move in and make the arrest.

The meeting took place in a coffee shop near Fisher's office and was also recorded on video. According to the recording, Fisher reiterated his offer to have the against Hassan closed in return for the money. Hassan agreed and Fisher was arrested minutes later en route to his car.

Investigators then raided Fisher's office.

In response, Fisher's lawyers claimed that their client was being targeted because of his impressive record in court, which they claimed "motivated certain people to harm him."

They further denied allegations that his office somehow enjoyed preferential treatment from police.