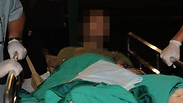 Arriving at Soroka
Photo: Herzl Yosef
Mordechai Yamin, an IDF soldier wounded by mortar fire from Gaza last Thursday, may have a long road to recovery ahead, but is eager to rejoin his comrades on the front lines.

Twenty-two-year-old Mordechai was critically wounded when the mortar hit his base near the Gaza border. His father, Nitzan, said IDF officials called him and informed him of the attack. Father and son were then briefly united by telephone when Mordechai said, "I've been wounded, I can't talk. It's hard."

He underwent three operations at Soroka Medical Center in Be'er Sheva on Friday, and doctors feared for his life during procedures. But Yamin awoke Saturday morning in stable condition, breathing on his own for the first time since the attack.

"We saw miracles and wonders," said Nitzan.

When he arrived at Soroka, Yamin's condition was found to be worse than originally thought. "They were always finding something new - a piece of shrapnel in his eye, in his head, uncontrollable bleeding from his arm. Therefore by the evening his life was in danger," said his father.

In the General Intensive Care Unit, where doctors fought for Yamin's life, he underwent three operations and on Friday evening his condition seemed to be improving.

Related stories:

Yamin regained consciousness but couldn't recognize his parents, a development that worried them considerably. He also couldn't initially breathe on his own and was kept on a respirator.

After several hours passed, doctors noted significant improvements in his condition. Yamin was fully awake and asked to be taken off the respirator which the doctor allowed after seeing that he had improved enough to breathe on his own.

Nitzan said that when he first saw his son awake, Mordechai couldn't remember that they had spoken before he entered the hospital. The first thing he said was, "Dad, what are you doing here? Who told you that I was hurt? I only wanted to tell you after I recovered."

Nitzan told him that not only his family knew, but that the entire country and even many in the world had heard of his story. On Friday the soldier received phone calls from government officials and others from abroad who wanted to pray for his health.

"He's an amazing child, he didn't want us to worry," said his father. "He has shrapnel lodged in a sensitive place in his brain. One one-thousandth of a millimeter to the side would be worse. One piece is also stuck close to his heart."

"He told me that we was in a locked room and was hurt by shrapnel that passed through the wall. Somehow he managed to find a piece of metal and broke down the door. Only then did he yell that he was wounded and they bandaged him up."

Nitzan said that his son is expected to have a difficult road to rehabilitation. "We have a long road before us but the general direction is positive, thank God."

Professor Eyal Sheiner, Soroka's deputy director, said, "The soldier is still hospitalized in the intensive care ward. He's undergone three operations. His condition is stable, but still not simple. He's already prepared to get back to the front, but I explained to him that he needs to have a lot of patience."