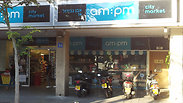 'It's as if the sirens avenged Shabbat's honor, leaving the streets deserted'
Photo: Amit Cotler
Ultra-Orthodox newspaper Yated Ne'eman has found a positive side to the missile attack on the Tel Aviv area in the past week: The missiles left the streets of Tel Aviv empty over the weekend, reducing the desecration of Shabbat in the city.

Newspaper correspondent Yisrael Rosner reported Sunday that

Holy Day

Despite prohibition, many customers have done their grocery shopping on Shabbat; resident: 'This is what makes Tel Aviv fun to live in - everything is always available'.

"in violation of the law and the interior minister's order, the supermarkets in Tel Aviv continued to defy the sanctity of Shabbat and open their gates shamelessly in an act of rebellion.

However, he noted with satisfaction, "the tourist areas, the cafés, the supermarkets and the restaurants were completely empty."

According to Yated Ne'eman, which is the official mouthpiece of Rabbi Aharon Leib Shteinman, the leader of the Lithuanian haredi community, there is no room for interpretation: "It was as if the sirens sounding in the city of Tel Aviv since the beginning of Operation Protective Edge were avenging the honor of Shabbat, leaving the city streets deserted.

"Business owners reported Saturday evening that they could feel the damage in their pockets," the newspaper added.