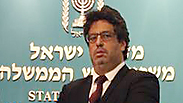 French MP Meyer Habib. 'We're afraid that the Toulouse attack will repeat itself'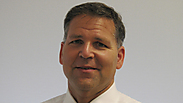 Jerry Silverman. 'The people of Israel are not alone in this battle'
Photo courtesy of JFNA
World Jewry feeling impact of Gaza op
Operation Protective Edge leads to violent attacks on Jews around the world: Four Jews injured in violent pro-Palestinian protest outside Paris synagogue, community rabbi beaten in Casablanca, Israeli-Australian citizen assaulted on Melbourne street for wearing IDF shirt.
In additional to fiery anti-Israel protests in almost every Western capital, the Israeli operation in Gaza has also led to violent attacks against Jews in France, Morocco and Australia.

The Diaspora Jewry is watching the situation in Israel and in the Jewish communities themselves with great concern. Many of the Jewish community members are translating their unbreakable bond with Israel into rallies of support for the Jewish state. This is what Operation Protective Edge looks like in Jewish eyes overseas.

Anti-Semitism

In meeting with Francois Hollande, European Jewish Congress leader Moshe Kantor calls for laws to make link between security and tolerance, saying no minority can feel secure in intolerant environment.

"I crossed the several meters separating my car from the synagogue. It was only when I approached the worshippers and saw their wounded faces that I realized something had happened," Yair Sheetrit, a surgical intern, recounts the sight he was met with on Sunday evening at the Abarbanel Synagogue in the city's 11th district, where he lives.

"I don't want to think about what would have happen had the protestors entered the place," he says. Sheetrit and his fellow community members had arrived at the synagogue in order to say a prayer for the IDF's soldiers and Israel's citizens.

"The community leaders knew that something was about to happen," he says. "They appealed to the municipality not to allow the protestors to approach the synagogue and to boost security in the area. That didn't happen."
'It felt like the end of the world'
Eventually, massive police forces managed to disperse the violent protest taking place outside the synagogue. According to Sheetrit, four people were injured – one of them sustaining serious wounds – and evacuated to hospitals.

"It felt like a pogrom," he says. "I felt like a Jew in the Holocaust or a Jew in North Africa a moment before the masses launch a pogrom. There was fear in the air. It felt like the end of the world."

The day after the violent protest, Paris' Jews blamed the French media for treating the event as "a minor incident."

"Today is Bastille Day, yesterday was the World Cup, and the rest is apparently not important," says Sheetrit, adding that France's Jews have given up when it comes to pro-Israel PR.

French Parliament Member Meyer Habib appeared particularly distraught. "They attacked synagogues, and 'we will slaughter you' and 'death to the Jews' chants are heard on the street," he said. "The police managed to ward off the rioters, but it's extremely serious. Additional pro-Palestinian protests are already being planned. We're afraid that the Toulouse attack will repeat itself."
'People broke into tears during Shabbat prayer'
Speaking ahead of a meeting with French Interior Minister Manuel Valls, Habib said: "We are experiencing what is happening in Israel and we are aware of the great effort being made to hurt as few innocent people as possible…

"Ninety percent of the Muslims are killed by Muslims. The current situation is serious, and I am not just concerned about the country's Jews following the situation but about all the French people."

Habib says he has been going from one television studio to another in the past few days in a bid to promote Israeli PR. "It's not easy, but people want to listen. The wide public is unfamiliar with the basic facts. People don't understand that Israel is defending itself. They don't know that Hamas started the rocket fire."

The security around Habib himself has been beefed up as well in recent days, following death threats. "Because I defend Israel, some people have demanded that I give up my citizenship," he says. "I receive inciting reactions from Muslims. I am very concerned."

According to Habib, "The Shabbat prayer at the synagogue was extremely difficult. Some people broke into tears. It's not easy to be in a situation in which synagogues in France are being attacked 70 years after the Holocaust."
'There's no future for Jews in France'
Eliyahu Zeno, a Jewish Agency official in Paris, says that for the first time since he took the job three years ago, he is considering sending his wife and children back to Israel.

"It's no longer safe to be here," he says sadly. "Until yesterday my daughters spent the day at a summer camp inside the attacked synagogue. I can't send them there anymore. It's too dangerous."

France's Jewish community is the biggest in Europe and the second biggest in the world (after the United States), and is considered pro-Israel. More than 70% of its members have visited the Jewish state.

"They are very close to what is happening in Israel, but things have changed here," says Zeno. "While in similar incidents in the past you would hear Jews saying, 'Our position in France is guaranteed and the government is protecting us,' today you hardly hear that.

"There is a feeling that there is no future for Jews in France. That doesn't mean that they necessarily immigrate to Israel, but they don't stay in France either. Some 10,000 people have approached the Jewish Agency and expressed an interest in making aliyah. With the number of households, you have about 30,000-40,000 people looking for a new home. These are numbers which cannot be ignored."

Zeno believes that Operation Protective Edge has only emphasized the problems the Jewish community deals with on a daily basis.

"In the past, the anti-Israel protests were held in central places in Paris," he says. "Today they come straight to the synagogues. They bring the war in Israel and the conflict to France. Jews equal Israel as far as they are concerned, and if they can't be fought in Gaza – we'll fight them in Paris.

"While in the past we used to organize mass rallies of support, today people don't show up. It's inefficient and it's very dangerous. There is a lot of despair over the current reality in France.

"Watching the local media is also frustrating. On television programs they always bring the anti-Israel side, but we hardly hear the pro-Israel side. In France the PR must be in French, and unfortunately there is no one to do it professionally. As long as there is no PR, the other side will continue controlling the stage."
US Jewish leaders on solidarity mission in Israel
The Jewish communities in North America found themselves in the heart of the international front as well. Most of the Jewish organizations are united in their support for Israel's right to defend itself against Hamas.

The pro-Palestinian protests at New York City's Times Square spread to other cities across the United States. The protests in Boston and Los Angeles turned violent and the local Jewish community was verbally attacked over its pro-Israel rally.

More than two dozen American Jewish communal leaders are currently touring communities in southern Israel in an emergency solidarity mission of the Jewish Federations across North America (JFNA).

During the two-day mission, delegates have traveled to Ashkelon, Sderot and Beersheba, as well as smaller kibbutzim and moshavim that have been directly impacted by rocket attacks from Gaza.

"Our goal in this mission is to serve as external ambassadors and to provide the people of Israel with the reassurance that they are not alone in this battle and that the Jewish communities of North America and all the Diaspora stand behind this effort to protect Israel's home front," said Jerry Silverman, JFNA's President and CEO.

"But it also has given us the appreciation for the real trauma that the people of Israel are experiencing. This is a message that the world needs to appreciate, so that Israel can do everything necessary to protect her citizens."

JFNA opened a $10 million fundraising effort to meet Israel's most immediate needs caused by ongoing rocket attacks from Gaza. Working with the Reform and Conservative Movements, the campaign helps service-providers deliver the medical, psychological and other items required to treat Israeli victims.
Community rabbi attacked in Morocco
In Morocco, the rabbi of the Jewish community of Casablanca was attacked on Saturday by a local Muslim on his way to a prayer. According to JTA, Rabbi Moshe Ohayon's attacker told him as he was beating him that it was in retribution for Israeli airstrikes on Gaza.

According to the report, Casablanca Jews called on local authorities to increase security around synagogues and other Jewish institutions following the attack.

In Melbourne, an Israeli-Australian citizen was assaulted on a quiet street by two Arabic-speaking men. The man, Zachary Gomo, told JTA that he was attacked while walking to a shop in a Jewish neighborhood on Thursday night wearing a T-shirt from his service in IDF.

"I noticed them when it was too late. They jumped on me, started punching, screaming 'kalb Yehud!' (Jewish dog), 'Allahu akbar' (God is great) and something about Gaza in Arabic," Gomo said.

"One of them tried to pull me to the ground, I started fighting and punching back," he recalled. "I grabbed one of them by the throat and screamed at them, cursing in Arabic as well. This shocked them, they ran off."
Swastika daubed on Jewish home in London
During a pro-Palestinian protest in Berlin, one of the protestors chanted: "Kill child-murderer Israel" through a police megaphone, EJP reported. The local Jewish community filed a complaint and the police launched an investigation into the incident.

Dieter Graumann, the head of the Central Council of Jews in Germany, said that he was "shocked that a German police car was used to spread hatred and agitation. It was a big mistake that the police let themselves be abused for this."

In London, vandals painted an image of a swastika on a Jewish home in the suburb of Hendon.