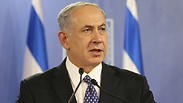 'Netanyahu understands that the responsibility lies on his shoulders'
Photo: Motti Kimchi
If an Israeli citizen hadn't been killed Tuesday at the Erez border crossing, one could have said that the first Israeli victim of this war was the deputy defense minister.

Prime Minister Benjamin Netanyahu did what he had to do when he fired Danny Danon, who rudely and insolently attacked him and criticized the policy of his defense minister, Moshe Ya'alon.

Protective Edge

Analysis: IDF echelon is pushing for a limited ground operation in Gaza in a bid to locate dozens of tunnels Hamas is planning to use for major terror attacks inside Israel.

Some will say that Netanyahu was just waiting for an opportunity to get rid of Danon. If that's true – and it is true – he found a good reason. When it involved political issues, it was annoying, troubling, but tolerable. But not when it involves security-related issues, in the midst of a war, as the deputy minister in the ministry he is criticizing.

If it were possible, Danon would not be the only one Netanyahu would fire. If it were possible and would not jeopardize his government, he would also fire Foreign Minister Avigdor Lieberman.

We have probably never seen such a thing before, not even in wars with less national agreement than in the current operation: In the midst of a battle, while IDF soldiers are deployed on the outskirts of Gaza, the foreign minister convenes a press conference in which he refers to Netanyahu's policy as tormented, hesitant and uncertain.

Lieberman, who is a cabinet member and a senior partner in the coalition, presents a different stance which contradicts the one the cabinet decided on several hours earlier, and that is to go all the way – in other words, to occupy the entire Gaza Strip and control it.

Lieberman and Danon are not the only ones. Naftali Bennett too, until the cabinet vote, did not miss an opportunity to express his dissatisfaction with the handling of the operation in public.

The criticism against the prime minister came from members of his own party as well, including some of his senior minister. One by one, they stuck their finger out, checking in which direction the wind is blowing, and joined the critics. It was as if the hours in which Israel held fire and gave the world an opportunity to see where Hamas is headed changed the face of the battle and dealt a critical blow to Israel's deterrence.

Excuse me, but aren't we a bit confused? With this great force waiting, prepared to enter Gaza, and an air force which has been crushing the Strip for a week, has our power of deterrence suffered in any way because of a few hours of a ceasefire?

This hysteria over Israel's deterrence abilities is so miserable and pathetic. It conveys so much insecurity, so much infertile and unnecessary machismo. Does anyone think we can't afford a few hours of holding fire? Isn't it better to be sure that we have utilized every security-related and diplomatic mean to the fullest before sending the IDF in?

Netanyahu did the right thing when he agreed to hold fire. This is a decision one cannot lose in: If he did it because he thought Hamas would reject it anyway, then he was also right and also scored some points in the international arena, that same arena we claim he doesn't know how to maintain. And if he did it because he thought Hamas would hold fire and prefer to reach understandings, what's wrong with that?

It's time for us to stop deluding ourselves. There are only two options for ceasing the fire: Trying to reach understandings and agreements like in Operation Pillar of Defense and more than that, or occupying the entire Gaza Strip and controlling it. Now each one of us should consider whether he or she is prepared to have the IDF reoccupy the Strip and regain control of its 1.8 million citizens.

Netanyahu did a courageous thing on Tuesday when he accepted a ceasefire against the opinion of his natural camp. This isn't a simple thing for a person who has mostly made survival-related decisions until now. The prime minister likely understands, in the clearest and most profound manner, that the responsibility lies on his shoulders.

Because who will take responsibility for a ground operation which is unlikely to be efficient, and which will claim dozens and maybe even hundreds of victims on both sides? Who, Danny Danon?