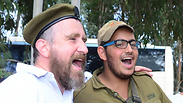 Chabad member and IDF soldier
Photo: Meir Dahan
No, he wasn't a Lubavitch member. But he was a lovely man, and the last thing he did before he died was to go, on his own initiative, to support and encourage tense and anxious IDF soldiers just meters from Gaza.

Dror Hanin, of blessed memory, was a Beit Aryeh resident killed Tuesday night near the Erez checkpoint by a mortar fired by Hamas terrorists. He did not live there, nor had he received an IDF call-up order. He simply chose not to stay in his own protected space, but took the initiative to encourage the troops, and paid for it with his life.

Not two hours had passed before rumors spread that a Chabad Hasid had been killed in the incident. Chabad youths have been visiting the deployment sites for soldiers, armed with treats, messages of support and the option of performing a mitzvah or two that would be good for the soul in these tense times. They were there in Suez, Tyre, Sinai, Metula and Rafah, and now also in the rocket-battered South and IDF congregation areas near Gaza.

They focus on three central activities: with the soldiers; in shelters offering succor to stressed and worried civilians; and specific activities for the children.




On Monday, the atmosphere on the Gaza border was tense and heated, as was the weather. In the background were constant explosions from IDF troops shelling Gaza and, at the same time, the whistle of Qassams passing over our heads on their way to an interception by an Iron Dome. I and the young Chabad members, together with the directors of Chabad house for the southern communities, are also active at the outposts of Israeli soldiers awaiting the possibility of a ground incursion in Gaza.

Armed with treats and letters and drawings of encouragement, we walk through the quicksand to reach every soldier. Sometimes we need to display flexibility and youthful spirit, scrambling up APCs to meet another soldier and another soldier. This time it was a soldier from kibbutz in the north. To our surprise, it is precisely this kibbutznik who is the one to ask, "Do you have phylacteries?" I adorn his hands with the black straps, and am moved to tears when he declares "Hear O Israel".




Chabadniks are privileged: we receive our own call-up orders in every of one the scattered Chabad houses, bringing encouragement to Jewish communities all over the world. Thus, the residents of Ashkelon and Be'er Sheva could this week open care packages of toys and stationery collected by children from the Jewish community Durban, South Africa, and the soldiers could be uplifted by children's drawings and letters calling on them "to be heroes and strong like Samson" that come constantly from across the United States.

I will not lie to you. The fear is always present, and events with such painful outcomes as the one on Monday only serve to heighten it. Someone might teasingly enquire what happened to the promise that "an emissary of a mitzvah cannot be harmed", but I'm not an accountant, certainly not one for God. I make sure I have the maximum protection possible, but know this is a small contribution to the war effort.

.

Perhaps because of the hug/chocolate/drawing /tefillin/ words of encouragement from me and other volunteers, the soldier will fight better.

An ordinary person might think that we are suffering from some kind of mental disorder, that we are obsessed with action and only looking for the explosions and the smell of gunpowder. Believe me I would give it all up. I would always take pastoral quiet over a barrage of mortars and the noise of sirens rising and falling.

But I know that they need us, that more than a million Israelis have practically "moved house" to a shelter or reinforced room. When a support team arrives to spreads a few words of faith and hope, and when the floor of the shelter is transforms from a carpet of bored and scared children to a circle of happily dancing ones, this is real ammunition in the battle for people's spirits.

Rabbi Aharon Pruss is the coordinator for Chabad activities with IDF soldiers and the residents of the south.