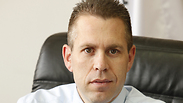 Communications Minister Gilad Erdan
Photo: Sasson Tiram
ommunications Minister Gilad Erdan wants the Qatar-based al-Jazeera news channel taken off the air in Israel due to its "forbidden incitement" against the country during the Gaza conflict.

In a letter to the to Israel's Cable and Satellite Broadcasting Council, as well as to the HOT and Yes cable and satellite television providers, Erdan wrote that "for the past two weeks, the State of Israel has been engaging in persistent fighting against the terror threat of the Hamas organization, as part of Operation Protective Edge.

Objection to Operation

MK Hanin Zoabi tells Qatari news channel that 'home front cannot handle prolonged conflict.' Hamas spokesman abroad says Zoabi is 'a Palestinian woman filled with patriotism.'

"As part of the media coverage of this serious fighting, Qatari television channel al-Jazeera, which can be viewed in Israel through the cable and satellite services, is freely broadcasting serious words of incitement against the State of Israel alongside enthusiastic support for the Hamas organization and its acts of terror.

"Under these circumstances, the channel's broadcasts appear to constitute forbidden incitement," the minister wrote. "I would like to raise my request to remove al-Jazeera from the cable and satellite broadcasts with the council as soon as possible, at least until the security situation is destabilized and peace is restored."

According to Erdan, the channel presents Israel "as committing war crimes against the Palestinian population in Gaza, while the war crimes committed by Hamas on a daily basis – intentional firing at a civil population from within a civil population – receive no criticism or condemnations.

"The IDF's activities against Hamas' terror infrastructures are falsely presented as an intentional brutal attack on innocent civilians. The channel airs the Hamas organization's propaganda clips against the State of Israel, presents reality in a one-sided manner and serves as mouthpiece for Israel's worst enemies.

"There is no doubt that the freedom of expression, which has a place of honor in the Israeli democracy, also includes voicing opinions (and even radical opinions) which not every person approves of," the minister added.

"Nonetheless, I believe that at this time, while the State of Israel is engaging in persistent and bloody fighting against an unrestrained terror organization committing war crimes and cynically taking advantage of the fact that the State of Israel respect international combat laws, there is no room for broadcasts serving as the mouthpiece of the enemy.

"I am certain that in the entire world, there is not a single democracy which would allow an intolerable situation in which during a war against a terror organization, its citizens would receive propaganda broadcasts at the enemy's service. I believe that such a situation should not be allowed in the State of Israel either."