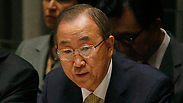 UN chief Ban. 'Failed to honor his commitment and keep his promises'
Photo: Reuters
In the best-case scenario, we witnessing lip service, another act in the endless hypocrisy of the United Nations, its workers and leaders. In the worst-case scenario, we are seeing moral blindness, a complete distortion of right and wrong, of aggressor and defender.

UN Secretary-General Ban Ki-moon's outrageous comments at the UN General Assembly leave no room for doubt as to what we will be facing in the coming months: An international diplomatic war of attrition, which will push Israel up against the wall.

General Assembly

Ron Prosor speakes at General Assembly in New York, urging international community to join Israel in fighting terrorism; Ban Ki-Moon condemns 'senseless cycle of suffering' in both Gaza and Israel.

Even before a trial is held, the brave UN soldiers will rise up and hurl stones at the last Western fortress in the Middle East.

When I telephoned former Israeli Ambassador to the UN Dan Gillerman on Wednesday evening and asked him to address Ban's comments, he did not sound surprised. Gillerman spoke about a UN chief who, despite being a friend of Israel, is a slave to his desire to serve everyone and please everyone.

"When he took office," Gillerman explained, "he said that what he saw in front of his eyes was the need to do the right thing and stand by those who are right and denounce those acting against the United Nations Charter. In this case, he failed to honor his commitment and keep his promises. He is acting against the organization he heads.

"This hypocrisy we just saw will follow us in the coming months. There are triple standards in the UN: A standard for totalitarian states, a standard for the West and a standard for Israel. I would have expected more from a secretary-general who knows what it means to live next to a tyrannical regime (North Korea)."

This isn't the first time that the UN goes out of its way to feed the monster of hypocrisy characterizing the international diplomatic discourse. After Operation Pillar of Defense too, the Goldstone Commission's pursuers of justice and morality popped up in an attempt to turn Israel into the criminal against humanity which it isn't.

Instead of taking the General Assembly podium and promising to check how UNWRA institutions have turned into shelters for terrorists and murderers, and instead of apologizing to millions of Israelis who have turned into the mobile targets of Hamas' rockets, Ban Ki-moon accuses Israel and rolls his eyes.

The UN secretary-general should perhaps look reality in the eye, and explain in the same breath in which he shoots his arrows at Israel, why his messengers to Gaza failed to report that they had become the launching facilities' gatekeepers.

Perhaps he should face the world and admit wholeheartedly: We have failed. The organization, which focuses all its efforts on finding for solutions for the Palestinian refugee industry, has become the willing collaborator of terrorist organizations whose only goal is to make the Israelis' life miserable, while holding on to some two million Palestinians who are living in terror and wretched poverty, failing to shake themselves free of their captors.

It's not that anyone in Israel will be surprised by this sincerity, which will likely never happen, but at least we'll know what we're dealing with.

Because Israel has repeatedly warned that rockets are being launched from schools, clinics, hospitals, mosque, humanitarian facilities and other civilian facilities. The IDF has time and again urged the UN to handle this issue, warning that terrorists are hiding missiles within classrooms and storerooms.

But the UN didn't bother to check, and didn't bother to clear those facilities. There, in the UN's green-marble corridors, the hypocrisy and blindness officials continued to roll their eyes and call for Israel's execution by hanging in the city square.

And if you have any doubt that the UN's festival of lies is just beginning, look towards Geneva, at the Human Rights Council, and then turn your gaze towards The Hague and wait on the steps of the International Criminal Court.

It is those exact places which are about to host the distorted media circus of the fake morality and justice keepers, who will find all the right words to attack Israel for defending millions of civilians living under terror, and forget to place a mark of shame on the terrorist organizations, whose only desire is to destroy everything the United Nations was supposed to be.