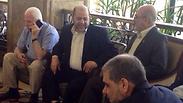 Political officials confirmed Sunday night that Israel agreed to renew the Egyptian-brokered ceasefire.
The officials said that – as per Israeli's demands – a delegation will arrive in Cairo if there if a temporary truce holds on the ground.
Palestinian negotiators in Cairo say they have accepted an Egyptian proposal for a new, three-day cease-fire with Israel, the Associated Press and Al Araibya reported.
The comments came after Israel said on Sunday it was prepared for protracted military action in Gaza and would not return to Egyptian-mediated ceasefire talks as long as Palestinians kept up cross-border rocket and mortar fire.
The Palestinian decision aims to clear the way for renewed negotiations with Israel on a long-term truce arrangement in the Gaza Strip. The officials, representing various Palestinian factions, spoke on condition of anonymity because they were discussing sensitive negotiations.
A Hamas spokesman was more cautious, saying "There is a proposal for another 72-hour truce which would allow negotiations to continue. This proposal is under consideration," Sami Abu Zuhri said, stating that the decision of the Palestinian delegation depended on the "seriousness" of Israel's position in regards to the groups demands.
IN DEPTH: What does Hamas want, and what it may get?
Earlier the head of the Palestinian delegation in Cairo had said it would leave unless Israeli negotiators, who flew home on Friday hours before a three-day truce expired, came back to the talks. But Egypt's state news agency, MENA, said the Palestinians would remain for an urgent meeting with the Arab League on Monday. A source told Ynet that senior Palestinian official Saeb Erekat could also join the meeting.
Israeli air strikes and shelling killed three Palestinians in Gaza on Sunday, including a boy of 14 and a woman, medics said, in a third day of renewed fighting that has jeopardised international efforts to end a more-than-month-old conflict.
Ceasefire efforts
Palestinian negotiators say their team will quit Egyptian-brokered talks on ending the Gaza fighting unless Israeli negotiators return to Cairo.
Izzat al-Rishq, a member of Hamas' political bureau participating in the Cairo talks, said that the chances to reach an agreement are low and that the delegation may leave Cairo at any minute. "The possibility of negotiations to succeed is weak. It is possible that the Palestinian delegation will leave to consult its leaders any minute," he said
Prime Minister Benjamin Netanyahu said Sunday "Operation Protective Edge continues... Israel will not conduct negotiations under fire," indicating Israel is not shifting from its position.
Begining hours before Friday's ceasefire was set to expire, Gaza militants renewed rocket fire, demanding talks continue, and have since fired dozens of rockets and mortar shells at Israel over the weekend, including two on Sunday morning.
Bassam Salhi, a Palestinian negotiator from Palestinian President Mahmoud Abbas' PLO movement, says his team met with Egyptian mediators late Saturday.
He said Sunday: "We told the Egyptians that if the Israelis are not coming and if there is no significant development, we are leaving today."
Similar comments were made by lead negotiator Azzam al-Ahmed to AFP: "We have a meeting tomorrow with Egyptian (mediators). If we confirm that the Israeli delegation is placing conditions for its return, we will not accept any conditions," he said.
Prime Minister Benjamin Netanyahu is set to convene the Cabinet at 10:30 am Sunday, at the Defense Ministry in Tel Aviv, where the issue will likely be discussed, however since Hamas decided to renew rocket fire instead of unconditionally extending the ceasefire, Israel's position has been that it refuses to talk while violence continues.

One of Hamas' central demands has been an end of the Egyptian-Israeli siege on Gaza, a demand both Egypt and Israel have rejected, but indicated willingness to ease some restrictions.
Qais Abu Laila, a member of the Palestinian negotiations team in Cairo, said that "Israel wants to regulate and not lift the siege. It is has rejected most of the Palestinian demands."
According to Abu Laila, Israel wants to renew restrictions over materials entered into Gaza and the movement of people into the Strip.
Hamas has said it wants assurances by Israel that it is willing to lift the blockade on Gaza before observing another ceasefire. Israel has said it will not open Gaza's borders unless militant groups, including Hamas, disarm. Hamas has said handing over its weapons arsenal, which is believed to include several thousand remaining rockets, is inconceivable.
Instead, one proposal circulated by the Egyptian mediators over the weekend offered a minor easing of some of the restrictions, according to Palestinian negotiators who spoke on condition of anonymity because they were not allowed to discuss internal deliberations with journalists. It was not clear if this was an Egyptian or an Israeli proposal.
The Palestinian negotiators said they rejected the ideas, insisting on a complete end to the blockade.
A Palestinian official in Cairo said on Sunday that Turkey and Norway have expressed their willingness to operate the seaport the Palestinians have been seeking to open in the Gaza Strip.
The source also added that Israel would respond to the demands of the Palestinian delegation on Sunday. During the day, the Palestinian delegation is expected to meet with the Egyptian mediators and receive the answers in writing.
Hamas: Israel wasting our time
Accusing Israel of stalling on ceasefire negotiations, Hamas has threatened on Saturday to quit the talks if Israel doesn't start negotiating in earnest in the next 24 hours.
"There's no real seriousness from Israel. The Israeli side is intentionally stalling on his response to the Palestinian demands," Hamas spokesman in Cairo, Moussa Abu Marzouk, said.
"We won't stay for long in the talks without a serious negotiation. The next 24 hours will determine the fate of the talks," he added. "We're not interested in an escalation, but we won't accept that there's no response to our demands."
Roi Kais contributed to this report.