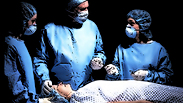 'When someone needs an organ transplant, they'll do everything in their power'
Photo: Index open
Israelis have a "disproportionate role" in the seamy world of international organ-trafficking, according to a comprehensive New York Times investigative report on global organ trade.
Two years ago, the report states, the family of Ophira Dorin, a 36-year-old Israeli woman with kidney disease, began looking for a way to bypass the long waiting list for an organ and soon came found three Israeli organ brokers whose reach purportedly extends to Central America.
It wasn't an easy task, the report said, but Dorin's mother, who works in a hospital, managed to make a contact with the three brokers, whom the Times names as Yaakov "Koby" Dayan, a businessman in his late fifties who takes an interest in real estate and marketing; Avigad Sandler, a 65-year-old insurance agent who was an IDF officer; and 30-year-old Boris Volfman, an emigrant from Ukraine and Avigad's protégé, who runs his own transplant tourism agency.
All three are active operators in Israel's underground kidney market, according to the Times.
For years, the three had paired Israeli patients with donors from abroad, according to the report. They claim that their activities were legal and that their involvement in the organ transplants was strictly indirect. According to the New York Times report, the prominence of Israelis in the global organ trade can be attributed at least partly to an unavailability of organs for transplantation, as a result of Jewish law prohibitions.
"When someone needs an organ transplant, they'll do everything in their power," the report cites Meir Broder, a legal adviser to Israel's Ministry of Health, as saying.
From 2009 to 2012, the brokers sent numerous patients to Costa Rica. The NYT tracked them down and even reached the brokers, some of whom live in Ramat Gan in central Israel. There is no official information on the number of the transplant recipients, but the NYT counted 11, including six Israelis, who made their way to Costa Rica to receive organs from locals. The same three Israeli brokers also assisted people from other countries. One of the cases has been solved by the police, and the money was returned to the patient, in this case an American. Two other Israelis brought their donors with them from Israel. Dayan assisted four patients - including Ophira.
'A third of the cost than in the US'
Dorin told the New York Times that she was asked to pay $200,000 in cash to Sandler for a flight to Sri Lanka. Meanwhile, she came into contact with Volfman, who asked for only $150,000. However, both Sandler and Volfman were arrested in Israel shortly after due to a suspicion of involvement in organ trade.

Later on Dorin met with Dayan, who asked for $175,00 for the entire procedure. $18,500 of the sum was paid to a 37-year-old local unemployed man, for his kidney. While Ophira questioned the legality of the procedure that Dayan had presented to her, she stated that she felt that she didn't have a choice: "my condition was critical," the report quoted her as saying. "I didn't feel very good, and my condition was getting worse. Even if I knew it was illegal, I don't think I would have done anything different. It's important to understand that these people, although greedy, do save lives."

In 2008, an international committee formulated the "Declaration of Istanbul", that asserted that organ trade violates the "the principles of equity, justice and respect for human dignity and should be prohibited." However, organ transplantations usually pass under countries' radars due to a lack in clear laws on the issue and an insufficiency of cooperation between the countries regarding extraditions.

In Costa Rica, many gave into the temptation of making fast money – not only poverty-stricken people, but physicians as well. According to the NYT, "Physicians have a financial incentive to treat foreign patients because of the country's dual public-private medical system. Specialists like nephrologists and transplant surgeons are required to work at state-run hospitals, where they make perhaps $7,000 a month. But they can earn more by working after hours at private hospitals that cater to patients with means. There, doctors are paid by the case, so the more transplants they perform, the more they make."

One of the physicians involved in the incident is Dr. Francisco José Mora Palma, the chief of nephrology at a San José hospital, to whom the payments were transferred, and who also paid the kidney donors. One of the doctors explained to the NYT that in the US, a kidney transplant costs $250,000, while in Costa Rica, "it would cost more or less a third part, including the hotel and the ticket for the planes." Soon, a rumor began spreading around the San José Hospital about the large profits one can make from organ donations.

Dayan reportedly made use of the services of dummy corporations through which he routed $30 million from 1997 to 2007, mainly from transplant brokering. He collaborated exclusively with the senior doctor at a San José hospital, Dr. Mora, for Israeli patients. When tracked down by the NYT, Dayan confirmed that he knew the doctor, but denied that he had sent patients to Costa Rica. He said that the Dr. Mora himself had been involved in connecting Costa Rican donors with Israeli patients. "We help people, but I don't want to talk about it," he told the NYT.

The first to suspect criminal activity was a nurse at the public hospital in Costa Rica where Mora worked, the Times said. She reportedly noticed that the equipment the hospital used for surgery was different than that used for transplants. The suspicions of hospital staff in the US were aroused several months later, when an Israeli patient came to them in serious condition, after undergoing a kidney transplant in Costa Rica.

The alert in Costa Rica regarding illegal organ trade was heightened when a young Costa Rican couple who arrived at Ben-Gurion Airport caught the attention of airport staff – a series of questions revealed that they had came to Israel to sell a kidney, saying that Dr. Mora had sent them. The NYT stated that the couple did not know why they had been sent to Israel instead of the procedure being performed in Costa Rica as usual, but that they were in desperate need of the money. After their intentions were exposed, the couple were deported, without the money they had expected to collect.
'He said it was legal'
A month after the airport incident, in April 2013, the director of the hospital in San José informed Dr. Mora that he was not approving any more transplants, the report said. Shortly after, a man arrived at the director's home demanding an explanation, and spouting verbal abuse. The NYT names him as Adi Vladlen Lishinski, a 30-year-old Israeli with a criminal record, who also goes by the name of Damien Goldstein. An acquaintance of Lishinski, car salesman Carlos Zúñiga Forero, told the newspaper that Lishinski had openly admitted that he "makes a living selling organs" and that "he said it was legal because the people sign some papers".

Forero further explained that Lishinski had hoped to establish a transplant tourism agency, and was looking for a local partner.

In November 2012, Lishinski set up an agency under the name D & B Medical Treatment Solutions, the report said. A notary who had been employed by Lishinski understood only after a certain period of time that he had been misled. The NYT quoted the notary as saying that Lishinski called him "a coward. I responded that as an attorney I have the right to choose what risks to take."

At the end of that month, Lishinski arrived in Israel and was arrested. The NYT learned that he was an old acquaintance of Volfman, and that the two had met as teenagers at a program for juveniles in northern Israel. Volfman confirmed to the NYT that he was Lishinski's business partner, but denied that Lishinski had been working for him in Costa Rica.

Volfman was arrested for a short period of time in 2012. Avigad Sandler, one of the other Israeli organ brokers, was also arrested in April on suspicion of trafficking in organs.

In 2007, Volfman pleaded guilty in the kidnapping of a man who he had used to break into databases of hospitals and look for patients in need of a kidney transplant. Several months after his release from prison, he established his own transplant agency. Within a year and a half, the agency arranged for 15 transplants, the report said. Volfman told the paper that his agency was only an intermediary between medical centers and patients.

Patients such as Ophira described Volfman as "self-confident, earnest and smoothly reassuring." Volfman had sold his own kidney in Columbia, as a young man, the report said. He told the NYT that he had worked with Sandler and even accompanied patients to Sri Lanka, but denied any involvement in the organ trade.
Fate of the brokers
In June 2013, Costa Rica police arrested Dr. Mora. He was jailed for four months, and later retired from his job.

His acquaintances told the New York Times that Dr. Mora had said "they did the kidney transplants to save lives." Following his arrest, more people who were involved in the process were also taken into custody, the report stated. Some of them are doctors due to be prosecuted this month. Most of the transplants were carried out at Hospital La Católica, whose employees had not responded to requests for comment.

Meanwhile, the regulations in Costa Rica have been tightened and it was decided that doctors taking part in such illegal proceedings would be charged. In addition, a national waiting list system for organ transplants was established.

In Israel, there are no charges against Sandler or Volfman, but the investigation is ongoing. In 2008, Sandler was suspected of involvement in a trafficking network in Kosovo. Attempts to contact him were unsuccessful, the NYT said.

Several months ago, one of Volfman's associates was arrested. The "primary suspect", whom the NYT surmises is Volfman, is apparently out of Israel, and, the police told the paper, "has no intention of coming back."

It was further reported that similar cases are being investigated in Turkey. Meir Arenfeld of the Israel Police said that the brokers were not deterred by the prior arrests.

"We see a pattern of behavior that is repeating itself," he said.