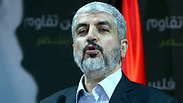 Hamas political leader Khaled Mashal
Photo: AFP
Hamas political chief Khaled Mashal attacked Israel and the Palestinian Authority in a speech on Thursday evening, a day after his deputy, Ismail Haniyeh, gave a public address at a victory parade in Gaza.

The Hamas leader warned Israel that the terror organization had not finished its fight. "This is not the end. This was not the last campaign to liberate Palestine – it was an important stop on the road to victory."

Speaking at a news conference in Qatar, he said: "We know that Israel is strong and is aided by the international community. We will not restrict our dreams or make compromises to our demands."

Mashal also leveled accusations of war crimes against Israel. "Israel committed another holocaust after Hitler's Holocaust, destroying schools and hospitals."

The political leader of the Gaza-based terror group urged the Strip's closest Arab neighbor to help assist in the territory's reconstruction. "We call on Egypt to open the Rafah border as a brotherly action."

Mashal, speaking in front of the portraits of three senior officials killed by Israel – Raed al-Attar, Abu Shmallah, and Mohammed Barhoum – said that the Strip's residents had made tremendous sacrifices.

"This war was forced on us, the Palestinians. They forced a blockade on us, and after they realized the blockade failed, they wracked havoc on us," he said.

The Hamas leader claimed that half a million people were left without access to water after the Israeli shelling during the 50-day-long Operation Protective Edge. "We will rebuild what was destroyed, we will supply you with everything we can," he promised.

Mashal said "this is our role, and it is the role of the Arab world and the Palestinian unity government. Gaza dazzled the world with its victory and its endurance."

The political chief claimed that Israel was "looking with a telescope for a victory to announce" before attacking the Palestinian Authority's security forces. "The West Bank started the intifada, but the security measures failed it. The resistance is holy, and its weapons are holy. There is not diplomacy without weaponry."

Mashal said the Palestinian factions were united both in the Cairo talks and on the battlefield. "The national brotherhood is the pillar of strength of the resistance. The resistance knows what it wants, and the Israeli army does not know its aims."

From his perch in the Qatari capital, Mashal claimed Hamas' achievements have tilted the scales. "They hit our airport, we hit their airport; they hit us deep within our territory, we hit them deep within their territory; their missiles reach everyone in Gaza, we have reached across Israel. More than five million Israelis were in shelters."

Reuters contributed to this report.