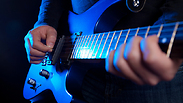 'We tour for our fans,' says Irish metal band (illustration)
Photo: Shutterstock
While her hometown of Ashkelon was being bombarded with rockets from the Gaza Strip this past July, a young Israeli girl scored a victory over the Boycott, Divestment and Sanctions (BDS) movement, which has been exerting heavy pressure on international artists not to perform in Israel.

Fourteen-year-old Shelly Dvir managed to convince Irish metal band Cruachan to go ahead with its September 13 concert in Tel Aviv as planned, after the BDS movement almost made them cancel the show.

Anti-Israel Protest

Group waving Palestinian flags and shouting 'free Palestine from the river to the sea' seize items they believe to be connected to Israel.

The band members wrote in a letter to the Israeli Embassy in Ireland that after being bombarded with hundreds of letters against their decision to perform in Israel, they eventually decided to arrive in the Jewish state after all thanks to the appeal from the 14-year-old fan, who told them she was looking forward to the concert.

The band members noted that it would be the first time an Irish metal band performed in Israel.

During Operation Protective Edge in Gaza, the band members were under a lot of pressure by the BDS movement to cancel the show but decided to go ahead with it after all.

"We have had a few comments and emails telling us to boycott Israel," said vocalist and guitarist Keith Fay. "We are not a band with a political agenda. We are musicians. When the show was announced, I had a message from a 14-year-old fan telling us how happy she was that she will see us in her home town. That's why we tour – for our fans."

Shelly was very excited to hear that the Irish band had decided not to cancel its show thanks to her letter.

"It actually started on their Facebook page," she says. "One of the people there made an ignorant comment against Israel. He started saying things like 'murder and abuse of children are legal there, it's part of their religion.'

"I was quite irritated by that. So I replied that murder and abuse are not legal here just like in any other country, and that Israel is a country which fights terror and tries to avoid killing or hurting innocent people as much as possible, unlike our enemies who fire rockets at our homes."

To the band members, who she has been following for two years now, she wrote: "I am very excited about your concert in Israel. People love you in Israel."

Israeli Ambassador to Ireland Boaz Modai congratulated the young girl for her initiative to writer to the Irish band members.

"International musicians are exposed to systematic intimidation campaigns by a loud minority calling on them to boycott Israel," he said. "Quite often, those musicians' decision to cancel their shows in Israel stems both from fear and from lack of knowledge and ignorance. So it's important to speak out."