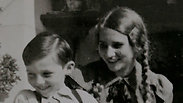 Holocaust child survivors (archives)
Photo: AP
Almost 70 years after the end of World War II, 75,000 Holocaust survivors will finally get recognition from the German government. The Claims Conference said Thursday it reached an agreement with the German government for $250 million in additional financial assistance for child survivors of the Holocaust.

The fund and the German Finance Ministry agreed late Wednesday to one-time payments of 2,500 euros ($3,280 or NIS 12,000) for special psychological and medical care for survivors.

"The joint fund will recognize survivors worldwide who were in camps, ghettos, hiding and (under) false identity for psychological and medical trauma caused during their deprived childhoods," said Claims Conference President Julius Berman.

Today all elderly, such victims of the Nazis are still suffering the effects of childhood malnutrition and psychological trauma.

The agreement, which still has to be approved by the German Parliament but isn't expected to meet any political resistance, will provide the one-time payment to Nazi victims born January 1, 1928 or later. That would have made them at oldest 11 at the start of the war, and 17 by its end.

"The suffering endured by these young Nazi victims, including devastating separation from parents at a critical time in a child's development, as well as witnessing unimaginable atrocities, deprivation from proper nutrition, and a range of injurious experiences has had a cumulative effect and are resulting in late-onset problems that only now are manifesting as physical and psychological symptoms in the survivors' advanced age," said Claims Conference Executive Vice President Greg Schneider.

The fund is expected to become operational in January 2015. It is estimated that over half of the survivors that qualify for the payments are living in Israel.

The chairwoman of the Center of Organizations of Holocaust Survivors in Israel, former MK Colette Avital, welcomed the decision.

"This is the right decision on the German government's part, that has been achieved with great efforts and an uncompromising struggle by the Claims Conference and Israeli Holocaust organizations. I thank them for not giving up and investing great efforts for this important goal," Avital said.

According to Avital, the children Holocaust survivors "have gone through great suffering during the Holocaust and at times were orphaned. It's clear that the horrors they've seen have left deeper scars in these defenseless and sensitive children. There is no doubt the suffering and memories haunt them to this day in their older years and affect their quality of living. No sum of money can compensate for that."

In June, the German parliament approved an increase in pension payments to thousands of Jews forced to work at the ghettos during the war. These payments amount to some half a billion dollars. This decision means that some 40,000 Holocaust survivors who worked in Nazi ghettos in return to food or very little pay will receive additional benefits on top of the compensation they receive from Germany.

In total, Germany has paid around 70 billion euros ($95 billion) in compensation for Nazi crimes, primarily to Jewish survivors.

The agreement comes as part of annual negotiations on who should receive funds. Compensation has evolved continuously since Germany agreed in 1952 to make payments, with annual negotiations between the Claims Conference and the German government on who should receive funds and how much will be paid.

The Associated Press contributed to this report.