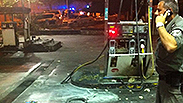 Palestinian vandalized a gas station at the French Hill in Jerusalem
Photo: Jerusalem District Spokesman's unit
Scores of Palestinians rioted in East Jerusalem on Sunday after hearing that a youth from their neighborhood had died of wounds suffered in a clash with Israeli police last week.

Protesters in the neighborhood of Wadi Joz close to the walled Old City threw rocks, petrol bombs and flares at passing cars, and riot officers responded with rubber bullets during an afternoon of clashes that lasted for several hours. There were no reports of serious injury.

Mohammed Sinokrot, 16, succumbed to a head wound suffered during a protest a week ago but the circumstances of how he sustained the wound were in dispute.

His father, Abdel-Majid, said his son had been hit in the head by a rubber bullet but Israeli police said Sinokrot had been hit in the leg with a foam projectile and had fallen and hit his head while running away from officers.

The body was taken for a post-mortem examination in Tel Aviv and the Israeli Justice Ministry's police investigations unit was examining the circumstances of the case, a police spokesman said.

In another incident, Palestinians attacked a petrol station in a Jewish neighbourhood in East Jerusalem adjacent to their own quarter of the city. They damaged fuel pumps and attempted to torch the station's convenience store, police said.

Street clashes with police in riot gear, military-style raids on homes late at night and stone-throwing at Israeli vehicles have marked the most serious outbreak of violence in Jerusalem since a Palestinian uprising a decade ago.

The violent protests in the city have been raging almost nightly beyond the spotlight on the Gaza war, leading to a crackdown by Israeli police in which hundreds of Palestinians have been detained.

The protests erupted in July after the murder of a Palestinian teen in an alleged revenge attack by three Jews, who are standing trial, which the suspects said was motivated by the killing of three Israeli youths in the West Bank by Hamas.

Damage caused by Palestinians to a Jerusalem light railway, which links Arab and Jewish neighborhoods and was once hailed by Israeli authorities as a symbol of coexistence, had put a third of its carriages out of commission.