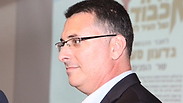 Interior Minister Gideon Sa'ar
Photo: Motti Kimchi
Interior Minister Gideon Sa'ar – the prominent Likud minister who stunned Israel Wednesday when he announced he would be taking a "time out" from politics – addressed his sudden departure from politics Thursday evening, saying "I didn't leave yesterday only to come back tomorrow."

His departure marks an end to a long a bitter relationship with Prime Minister Netanyahu, and also seems to indicate he will not fight Netanyahu for the party's leadership.



However, his comments Thursday indicate serious disagreements between the two, with Sa'ar seemingly backing Finance Minister Yair Lapid's position regarding the need to reign in the defense budget to support education and welfare.

"We are preparing to discuss the budget, we need to preserve the budget of social ministries. Education is security and the future," the former education minister said.

Sa'ar was considered by many to be Netanyahu's successor in the Likud and was chosen twice as the party's faction leader. However, relations between the two have been poor –especially after Saar led backed Reuven Rivlin for president, despite Netanyahu's reluctance.

In a modest and telling statement following Sa'ar shocking announcement, Netanyahu's officer said the two had spoken and that Netanyahu reportedly told him: "I respect your decision to take a break from political life. I thank you for your many years of public service in the government, Knesset and Likud. I which you luck in your future endeavors."

Arriving at an event in which he was made an honorary citizen of the city of Lod, Sa'ar said "I feel great."

"I am leaving without any bitterness or anger. If someone hurt me or attempted to hurt me it's all in the past now. Thank god I have had many achievements and I am young enough to do great things outside. It takes power to give up power… and there is life outside of politics," he said.