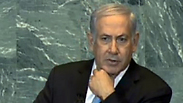 Netanyahu at the UN. Fighting for his political life (archives)
Photo: Reuters
It's more than likely that very few people, if any at all, will be glued Monday evening to the television, computer and smartphone screens or to the radio in order to watch and listen to Prime Minister Benjamin Netanyahu's address to the United Nations General Assembly.

It seems that even fewer people did so on Friday, during Palestinian Authority Chairman Mahmoud Abbas' speech.

Abbas' UN Speech

Analysis: Israelis and Palestinians are left with a battlefield between a government which will forever stick to status quo and a desperate PA which is fighting it, with world's growing support. This is a recipe for an explosion.

The Palestinian leader said what he said. The Israeli prime minister will say what he'll say. The statements and the speakers hardly interest anyone anymore. Both in Israel and in the Palestinian Authority, people have had enough of things that are said, of promises that are not kept and of dreams that don't come true. The question is: Is there anything new under the sun? The answer seems to be: There is nothing, for now.

For almost 150 years, we have been fighting over the same piece of land. It's the same piece of sky covering the Palestinian Authority and Israel. Those are the same olive trees planted on the Galilee mountains and on the Samaria mountains. Thousands have already paid with their lives for this tough and bitter fight between two people seeking to sit and live on the same part of the ground. Nothing leads the decision to one side or another so that one of the sides, or better yet – both, will live in peace and tranquility.

Those who believe that "God's right hand is victorious" don't believe in any political solution anyway, and will do a lot – if not everything – to make it fail. Those among the Palestinians who believe in the option of expelling Israel's citizens from their land once again are devotedly sticking to this belief. These days Abbas is joining those who believe that, if only for tactical reasons. He is fighting for his political life right now, if not for his actual life.

At the UN on Monday, Netanyahu will insist that our lives will be in danger if the Palestinians try to fulfill their dreams. Netanyahu is also fighting for his political life these days, and not just these days. He has to say these things firmly for the sake of the public, mainly his public, which no longer believes anything.

The solution, at least for now, following the aggravated political discourse and before the stones and Kalashnikovs are pulled out, seems distant but not impossible. The two rival sides will reject it out of hand, but we are nearing its execution.

It is the imposed solution that will come from the Western world, which is already sick and tired of hearing about Hamas and about the victims of terror and about the IDF's successful operations. The world of late 2014 wants peace and quiet, not to be driven up the wall.

At these moments, I remember the attempts to make peace between the two nations, as well as the tremendous efforts to thwart these attempts. We are probably going to miss them.