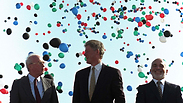 'The colorful balloons released into the sky 20 years ago are still floating in the air'
Photo: AP
The following words shouldn't interest those who think Menachem Begin was a fool, Ariel Sharon was evil, Yitzhak Rabin was an idiot, Shimon Peres is stupid, Ehud Barak is an imbecile and Ehud Olmert is irresponsible.

This probably also isn't the place and the time to wonder why prime ministers from completely different political directions denied their beliefs and education, and did what they thought was right for the State of Israel.

20 Years Later

It's been 20 years since King Hussein and Yitzhak Rabin exchanged warm words and optimism prevailed; but two decades on, the bubble has burst on hopes of normalized ties between Israel and Jordan. Smadar Perry returns to where it all began – and ended.

The fact is that these prime ministers searched for peace, and Begin and Rabin found peace with Egypt and Jordan. But peace with the Palestinians, in different forms, was the heart's desire of each of the aforementioned prime ministers. In the meantime, it's still a dream.

Sunday marks the 20th anniversary of the peace agreement with the Jordanian Hashemite Kingdom. If one had asked the peacemakers on both sides at the time whether this peace would last 20 years, they would likely have doubted it at best.

Twenty years is a long time. And the peace with Egypt has been holding on for more than 35 years. Unbelievable. Moreover, the important security relations with our two major Arab enemies have been defined recently by knowledgeable people as excellent.

It's true that the situation could be reversed very fast, and that the citizens of these countries are still hostile towards us, but there are no wars, no military operations, and most importantly – no casualties. Families are not being shattered and ruined. In the years which preceded the peace agreements, thousands of Israelis were killed in wars and between wars.

Unlike the peace with Egypt, which was heralded by a blare of trumpets, the peace with Jordan suffers from bad public relations to this very day. Because it was all done secretly, the masses think that it was almost inevitable, that it was accepted in no time by both sides and that almost nothing came out of it.

That's a wrong assumption of course: Like the process with Egypt, the talks with Jordan also experienced ups and downs, arguments, rifts and crises – as well as good moments which reached their peak exactly 20 years ago at the ceremony in the Arava valley.

For example, few people in Israel know that over the years the State of Israel "annexed" (or "stole," as some would say more blatantly) about 400 square meters of Jordan's sovereign territory. Those belittling this issue should check the number of square meters Tel Aviv or Ramat Gan stretch over.

During the negotiations, a demand was made to immediately return this territory, but Rabin and King Hussein reached a fair compromise: Israel would lease the land from the Jordanians. This is a realistic possibility only when both sides want real peace. And so, until this very day, Israeli farmers cross the border every morning, work their leased lands, and go home to Israel for the night.

Mistakes were also made. The biggest and main mistake was that the peacemakers on both sides did not take into account the fact that most Jordanian citizens are first-degree relatives of hundreds of thousands of Palestinians in the West Bank. Every rubber bullet fired in the Casbah of Nablus echoed in Amman's refugee camps, and every milliliter of tear gas in Ramallah brought tears to the eyes of refugees in the Zarqa and Mafraq camps.

These family ties are preventing the masses' dream: Free movement between the two countries, commerce and business, and a peaceful life.

And maybe this is the only real connection between the leaders of the State of Israel today and those leaders who give up or were inclined to give up on dreams and divine promises as they faced the harsh reality and the possibilities of peace.

It's true that we are talking about a harsh and bitter enemy, but we can also dig up everything we thought and said about Egypt and Jordan in the past and see that things can be done differently.

Thousands of colorful balloons were released into the sky 20 years ago. Those balloons are still floating in the air.