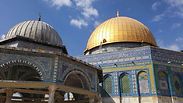 Temple Mount
Photo: Asaf Kamer
Closing Temple Mount for Muslim worshipers was "a dangerous escalation by the Israeli authorities and state terrorism that is unacceptable and we cannot keep quiet about it," Hael Abd-el Hafiz Daud, the Jordanian Minister for Sacred Properties and Islamic Holy Sites said Thursday.

The decision to close the holy site - that houses the al-Aqsa mosque - to both Jewish and Muslim worshippers came in the wake of an attempt on a Temple Mount activist's life on Wednesday night in Jerusalem.

The Jordanian minister warned that al-Aqsa must not be a victim to the attempted murder on Rabbi Yehuda Glick.




"Al-Aqsa is a place of worship for Muslims only, and will not be shut down to them under any excuses, security or otherwise," he said.

Daud called on peaceful world nations, Arab nations, Muslim nations and all of the international organizations to aid Jordan in pressuring Israel to lift the "terrorist seige" on al-Aqsa mosque.

He warned of the consequences to Israel taking advantage of the attack on Glick "to concede to the extremists' desire to invade al-Aqsa."

Egypt's Grand Mufti Shawki Ibrahim Abdel-Karim Allam strongly condemned Israel's decision to bar entrance to the Temple Mount, saying it was an offense to Muslim sensibilities all over the world and a blunt violation of international decisions.

Ahmed al-Tayeb, the Grand Imam of al-Azhar, considered by some Muslims to be the highest authority in Sunni Islamic thought, also issued a condemnation, saying "this is a precedent, the first of its kind since the holy city was conquered."

Tayeb warned that this "aggressive move" is meant to take over al-Aqsa, and demanded the Muslim world and the international community to interfere immediately in order to stop "this barbaric action which perpetuates the religious conflict that leads to instability in the region."

Palestinian Authority President Mahdmoud Abbas also condemned the decision, saying it is tantamount to a "declaration of war."

"This dangerous Israeli escalation is a declaration of war on the Palestinian people and its sacred places and on the Arab and Islamic nation," his spokesman Nabil Abu Rudeina quoted him as saying.