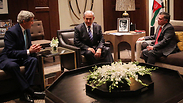 US' Kerry with Netanyahu, King Abdullah
Photo: EPA
Israel's "agressive actions" over the flashpoint Temple Mount are harming the US efforts to stop the Islamic State group, Jordan's King Abdullah reportedly told US Secretary of State John Kerry, London-based Al-Hayat reported.

On Thursday, Abdullah and Kerry held a meeting with Prime Minister Benjamin Netanyahu and vowed to work to calm the tensions on the site, the third holiest for Muslims around the work. Both Jordan and Israel reiterated their commitment to the status quo on at the site, known as the Haram al-Sharif Al-Aqsa mosque for Muslims.

Video: Reuters (צילום: רויטרס)

Meanwhile, a Jordanian parliament member, Mohammed al-Katasha, said that Netanyahu is set to visit Jordan again in the upcoming days, and will reportedly meet with King Abdullah again, Palestinian news agency Ma'an reported.

In the al-Hayat report, top Jordanian sources were quoted as saying that Palestinian President Mahmoud Abbas, who was also in Jordan and met independently with Kerry and the king, was pressured by Kerry to work and calm the Palestinian street.

In response, Abbas reportedly told Kerry that Israel's actions were pushing the Palestinians towards an intifada, which would kill any hope for peace talk.
Practical steps
In a press conference held after the meeting, Kerry and Jordanian Foreign Minister Nasser Judeh said all sides had agreed to take "practical steps" to deescalate the situation. Kerry also said that the sides had spoken to Egyptian President Abdel Fattah al-Sisi, who said Egypt was willing to work to help Israel and Palestinians to reach peace.

Earlier Kerry met separately with Palestinian President Mahmoud Abbas in Jordan on Thursday and spoke about the possibility to renew relations with Israel. Abdullah accused Israel of "repeated attacks" on holy sites in Jerusalem and said they must stop.

"Abbas and I discuses constructive steps – real steps… people can take to deescalate the situation and create a climate to move forward. Abbas restated his firm commitment to non-violence and made clear he would do anything possible to restore calm," Kerry said at the press conference.

"In the trilateral meeting we discussed specific and practical actions that both sides can take to restore calm. The Jordanians and the Israelis have agreed, the Jordanians as the historical cushioned of the Haram al-Sharif (Temple Mount), and the Israelis have worked to… make sure they deescalate the situation and that the steps they take will instill confidence the status quo will be maintained," Kerry said.

Jordanian officials fear wider unrest in the West Bank could spill over into their own country, where a majority of the population are descendents of Palestinians who fled across the river Jordan following the creation of Israel in 1948.

Attila Somfalvi, Elior Levy and Reuters contributed to this report