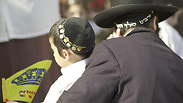 A four-year-old Jewish New Zealand boy was attacked last week by a group of men while he walked home from his preschool in what local media are calling a "hate crime."

According to a report in The New Zealand Herald, the boy was left traumatized after being attacked by a man who hit him hard on the top of his head in front of his mother, brother and a friend. The indecent took place in what the paper described as an upscale Auckland suburb of Mt. Eden.

Related stories:

The paper cited New Zealand Jewish Council president Stephen Goodman as saying the attacker was a man in his 20s of Middle Eastern appearance, and the man reportedly laughed as he left the scene with four others.

Head of the New Zealand Jewish group said the attack appeared to be a hate crime racially motivated as both the boy and his friend were wearing kippas and are ultra-Orthodox Jews. According to the paper, the boy's mother notified police who are now working to make an arrest.

According to the report, Goodman said he believed the anti-Semitic hate crime on a defenseless boy would come as a shock to many New Zealanders.

"A small Jewish community has lived here, well integrated, contributing to the wider society, and in exceptional peace since the earliest days of New Zealand's settlement. It's really very worrying that it seems to have elevated things one level higher. This behavior is so totally unacceptable and intolerable in New Zealand," he was quoted as saying.

The incident came amid growing violence in Israel, which has already begun to project onto world Jewry. The report even cited a number of events in New Zealand, in one case it mentioned a young girl walking through the a train station had had insults yelled at her in Arabic by young Middle Eastern men. And in October, men in a car had yelled "F****n' Jews" at a young boy walking in Remuera.

Last week, an Orthodox Jewish man was attacked by three people at a train station in New York City, the New York Daily News reported, saying the assailants beat the man with his own umbrella and called him a "dirty bloody Jew" and "a "f---ing Jew."

Also last week, a 31-year-old Haredi man, Yehoshua Malic, was stabbed morning while he was walking to his synagogue in Antwerp, Belgium. He said that as he was walking under the city's railway bridge, a hooded man passed by and assaulted him.

Meanwhile, German anti-Semitism and resentment towards Israel has risen sharply in recent months, with more than one in four respondents in a new poll equating the Jewish state's treatment of Palestinians to Nazi persecution of Jews during World War Two.

The bi-annual survey on xenophobia in Germany by the Friedrich Ebert Foundation showed broad measures of anti-Semitism on the decline over the past decade.

But it also showed a spike in negative views towards Israel and Jews in general between June and September, coinciding with the conflict between Israel and Hamas militants in Gaza.