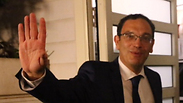 Minister Shai Piron
Photo: Motti Kimchi
Education Minister Shai Piron announced the resignation of Yesh Atid ministers from Prime Minister Benjamin Netanyahu's governing coalition. "After the cowardly act which characterizes his conduct over the past few hours, the prime minister committed another act of cowardice which we are witnessing at these very moments."
The Yesh Atid member said he and his fellow ministers "had not choice but to join the finance minister and the justice minister because there is no point in a belligerent government, a government without a future, without hope."
Meir Cohen also filed his resignation letter with the Prime Minister's Office after Netanyahu's conference.
Former Shin Bet chief Yaakov Peri attacked the sitting prime minister for his statements, calling the speech "irresolute, cowardly, and on the border of hysteria. I am saddened that at such a time, when the State of Israel faces significant security, economic, and political challenges, the prime minister chose to drag Israel to unnecessary, expensive elections."
Yesh Atid's ministers were Health Minister Yael German, Education Minister Shai Piron, Science, Technology and Space Minister Yaakov Peri and Welfare and Social Services Minister Meir Cohen.
Justice Minister Livni was the only Hatnua minister left in the government, after Environmental Protection Minister Amir Peretz resigned on November 9 in protest of Lapid's 2015 state budget.
Prime Minister Benjamin Netanyahu announced new elections on Tuesday evening after firing two key ministers in his government - Yesh Atid leader Finance Minister Yair Lapid and Hatnua leader Justice Minister Tzipi Livni.
Netanyahu instructed Cabinet Secretary Avichai Mandelblit on Tuesday evening to issue termination letters to the two senior ministers, citing constant criticism aimed at him and his government from both Livni and Lapid.
The prime minister said he will call for the dissolution of the Knesset as soon as possible in order to go to elections and "receive a clear mandate from the people to lead Israel."
"In recent weeks, including the last 24 hours, Ministers Lapid and Livni harshly attacked the government under my leadership. I won't tolerate any more opposition within the government, I won't tolerate ministers attacking from within the government the government's policies and its leader," Netanyahu said in a statement released shortly after the announcement.
In a press conference Tuesday evening, Netanyahu argued that "at the current situation, from within the current government, we cannot lead the country and my responsibility as prime minister is to lead the country."