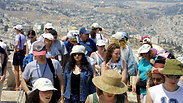 Tourists in Jerusalem. Number of overnight stays expected to drop to 8.4 million in 2015
Photo: Amit Shabi
The year 2015 will be a bad year for Israel's hotel industry, according to an Israel Hotel Association (IHA) forecast. The drop in tourist stays in 2014, which began following Operation Protective Edge in Gaza, will have an ongoing effect on the coming year's hotel occupancy rates and profitability.

The only good news in the forecast, which was prepared by the IHA's economic department, is that Israel will get nine new hotels in 2015 in addition to its 360 existing hotels, and that the number of hotels rooms will grow from 50,039 to 51,346.

Travel Industry

Palestinian tourism expert says $1.4 billion lost every year, as roads for settlers, border controls and administrative issues seriously hinder local industry.

The number of tourist overnight stays, which is expected to total about 9.1 million in 2014, will drop to 8.4 million in 2015 and make up only 39% of overall hotel stays, compared to 43% in 2013 and 42% in 2014. Israelis' hotel stays are expected to slightly grow from 12.801 million in 2014 to 13.031 million in 2015.

Hotel occupancy rates will continue to fall in the coming year. While in 2013, the occupancy rate was 65.7%, 2014 will end with an average occupancy of 61.9% and 2015 is expected to record a hotel occupancy rate of only 51.9%.

Despite the growth in the number of hotel rooms, hotels' proceeds are expected to drop to NIS 8.436 billion (about $2.16 billion) in the coming year compared to NIS 8.79 billion in 2013 and nearly NIS 8.9 billion in 2013. The proceeds per room will fall from NIS 201 a day to NIS 180 a day next year.

The forecast further shows that the property tax paid by hotels will increase to about NIS 6.179 million a year and make up about 3.8% of hotels' turnover, a 15% jump in the property tax component from the 2012 proceeds.

According to IHA President Eli Gonen, Israel must establish a national tourism marketing authority, which will replace the Tourism Ministry's marketing department.

Talking to Yedioth Ahronoth, Gonen said Israel was one of the only countries in the Western world in which the tourism marketing issue was still handled by a governmental ministry.

"In the past 20 years, we have barely had a single tourism minister who served an entire term. Every change of minister leads to a change of director-general," he said.

"There is no continuity in the ministry's activity. The Tourism Ministry keeps setting targets without consulting the heads of the tourism industry and tasking the private sector with missions which the industry cannot always accomplish.

"We need a national tourism marketing authority which will bring together all the involved parties and cater to the needs of this industry and the challenges it is facing."