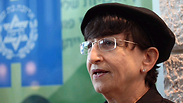 Adina Bar-Shalom
Photo: Ohad Zwigenberg
Against the backdrop of increasing demands by women in the haredi sector to play an active role in Israeli political life, Shas announced Sunday that it was establishing a council of women who, although choosing to remain in the home, will nonetheless act as an advisory committee.
Adina Bar-Shalom, the elder daughter of Shas' late spiritual leader Rabbi Ovadia Yosef, said in a press conference with party chairman Aryeh Deri that while she seriously considered offers from other parties to run for Knesset, she decided to choose "the difficult path - to remain in the political home that my father started 30 years ago."
She noted that while she "could've chosen the easy way and get elected in a few months as a member of Knesset ... this is not how I could've helped my sisters."
"I'm a haredi woman. I chose the hard way," she added resolutely.
"Shas is my home," she said, noting the party was "the most precious thing" to her father and that she chose to continue his path.
Sitting next to Bar-Shalom, Deri said he and the late leader's daughter "conducted a number of conversations with the main concern being the stance of our leader, Rabbi Ovadia Yosef, the father of all of us, and what he expects from us."
"I could have chosen the easy way," Bar-Shalom repeated. "However, the memory of my father, may his memory be a blessing, and my passion of public aid led me to the conclusion that concern for all of Israel is necessary from home. This is my home."
A large number of haredi women are demanding that the political parties representing their sector allow women on their electoral lists for the first time in Israel's history.
Now, it seems like Shas has come up with an answer to these demands. Bar-Shalom announced she and Deri's wife, Yaffa Deri, will both head an advisory council of women in Shas.
"Yaffa Deri and I will work on behalf of women and their empowerment – promoting academic studies and integration in management positions," she explained.
The haredi women's struggle began on Facebook – under the slogan "no votes without representation", around 3,000 members of the social network have called for women to boycott the haredi factions in their current formulation.
The feminist campaign was ramped up Friday morning by an open letter from a prominent public action group to the leaders of Shas and United Torah Judaism that formally outlined demands.
"This is the moment for historic justice, and it's in your hands," the group stated in the letter. "We are convinced that female representation will succeed in bringing our concerns to the Knesset in a fair and just manner. There are many talented haredi women who would be happy to faithfully handle public needs.
"The time has come for us to receive the respect we deserve as primary bread-winners and as those who hold the world of Torah on our backs, in the form of appropriate female representation in the haredi lists. We will respect any suitable female representative that you choose and we will feel that she is our emissary, the emissary of 50% of your voters."
The "No votes without representation" campaign said Sunday that they "welcome the decision made by the chairman of Shas and Council of Torah Sages to create a women's council within the movement – a blessed and important step that was made thanks to the actions of the campaign."
"We are happy to see Adina Bar-Shalom, the daughter of Rabbi Ovadia Yosef may his righteous memory be a blessing, integrated into the formal political activity of Shas. Thus begins the implementation of an important and groundbreaking process that we carved on our banner for the good of haredi women in Israel," the campaign said.
"It is clear to all of us that this important mission, which we saw the inception of this evening, does not end here. We will move forward and call on the haredi factions to also enable women to serve as MKs in the Knesset."