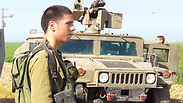 Troops at the scene of the incident
Photo: Roee Idan
IDF doctors and medics' resourcefulness and courage saved the life of a soldier who was seriously wounded in Wednesday morning's fire exchange at the Gaza border.

Medics were very close to pronouncing the Bedouin reconnaissance battalion soldier dead after he was gravely wounded by Palestinian sniper fire dead, Ynet has learned.

According to an initial investigation of the incident, at around 11am, a ground force from the Bedouin reconnaissance battalion, responsible for the Kissufim sector in the southern Gaza border, and an Armed Corps force were securing routine repair work for the fence when one of the soldiers suddenly collapsed.

The soldier was hit from a single yet accurate bullet from a Palestinian sniper who was taking advantage of the cover provided by the close proximity of the buildings in Khirbet Khizeh, several dozens of meters from the border fence and Israeli territory.

A military ambulance from the battalion arrived at the scene within minutes with a doctor from the southern brigade who determined that the bullet penetrated the soldier's upper body from the side and caused severe bleeding in his chest cavity.

Simulation of the incident (ynet 3D)

When the doctor realized only immediate treatment in the field could help regularize the soldier's pulse, he decided to perform surgery on the spot and drain the blood that accumulated in his chest. The surgery was performed by the brigade doctor with the help of a doctor from the Bedouin reconnaissance battalion.

The surgery was done while IDF tanks and Air Force aircraft were returning fire at the source of the sniper fire, while the wounded soldier's friends provided cover for the operating doctors who were working not far from the Palestinian homes.

Meanwhile, the doctor asked the IAF rescue helicopter to land at the scene of the shooting rather than the landing pad several kilometers east of there. The chopper landed in the line of fire and the soldier was evacuated in serious but stable condition to the Soroka Medical Center in Be'er Sheva.

Officers in the Medical Corps praised the doctor and the army medics on his team. "He made the right decisions on the spot that unequivocally saved the soldier's life. Most of the lethal injuries that lead to death are caused by massive bleeding and the doctor decided on the medical procedure while giving the soldier morphine."

Despite the serious incident, officials in the defense establishment believe that Hamas is not planning on initiating another escalation of hostilities against Israel. At the same time, Hamas' control on the field is growing weak. It's unclear who is the sniper who shot at the IDF troops, but the fact he did this "under Hamas' nose" (one of Hamas' posts nearby was bombed several minutes later), might indicate that Hamas was at the very least looking away instead of preventing the shooting.