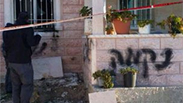 "Vengance" - scene of suspected 'price tag' attack
Dozens of Palestinians clashed violently with settlers in the West Bank on Wednesday, only a few hours after a Palestinian home was attacked in what seems to be yet another 'price-tag' hate crime attack.

Palestinians arrived in the fields near the settlement of Nokdim – home to Foreign Minister Avigdor Lieberman – to plow their lands.

However, the situation soon escalated into a violent brawl after settlers, irked by the fact that the Palestinians did not coordinate with the civil administration, descended upon them.




IDF forces were alerted of the clashes and dispatched to the area where they attempted to break up the fight.

Earlier, at around 4 am, the Palestinian village of Khirbat Adirat, located near the settlement of Carmel, was hit by what seems to be a 'price-tag' attack when a Palestinian home was set on fire after a Molotov cocktail was thrown at it, with its inhabitants still inside.

The word "revenge" was scrawled on the side of the home, indicating the motive for the attack was most likely nationalistic.




According to Adara, the father of the family , two masked men arrived at their house at 4 am with a firebomb. They broke the home's window and threw the explosive inside, while its 10 inhabitants were asleep inside.

"We're lucky that no one was in the living room," he said. A small fire broke out, waking the family, and sending them running from their home.

A local Palestinian resident spoke with Ynet and blamed local settlers for the attack: "Early in the morning two settlers were spotted pulling their car over to the side of the road and running towards one of the community's structures.

"They quickly spray painted the side of the home and threw the Molotov cocktail into the house and fled. We couldn't catch them because we were too busy extinguishing the fire," the said.

Head of the Mt. Hebron Regional Council Yoahi Damri commented on the event and said it was too early to blame the settlers: "The incident is now being investigated and we are working closely with the IDF to figure out what really happened. I recommend that everyone wait for the results of the investigation before we recreate the mistakes of the past, in which settlers were mistakenly blamed for vandalism and attacks that never took place,"