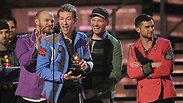 In addition to band members, Coldplay's manager Dave Holmes has also invested in the Israeli app
Photo: AP
What do British rock band Coldplay, American singer Nicki Minaj, American rapper Will.i.am and French electro music producer David Guetta have in common?

They have all invested in an Israeli company from Kibbutz Glil Yam, which has developed the "WhatsApp of music."

App Row

Singer's lawyers threaten lawsuit over game that has been downloaded millions of times, which parodies her 'Wrecking ball' hit.

After selling social multimedia platform Pheed to the Mobli Media Group for $40 million, entrepreneur Oded Kobo developed Music Messenger, a free music messaging app.

The application, which is available for iPhone and Android and already has one million users around the world, allows you to send any song in any language to friends on your contact list. In addition, it allows users to create music libraries and playlist and to search for songs.

Kobo managed to raise $5 million from senior members of the world's music industry at a company valuation of $25 million. Coldplay and the other investors are scheduled to hold a major concert in Beijing in June in order to introduce the project to the Chinese.

"Other sources in the music industry have expressed an interest in the app," Kobo told Yedioth Ahronoth. "I believe that in the future we will become the 'next YouTube.'"

David Strauss, another entrepreneur, is in charge of the company's business development.

Other investors in the company include Coldplay's manager Dave Holmes, DJ Tiësto, Gee Roberson (Kanye West's former manager), and RCA Records executives Wayne Barrow and Mark Pitts.

Holmes told his partners in Israel that this is the first time he invests in an Israeli company.