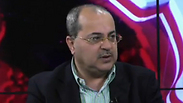 MK Ahmad Tibi
Photo: Avi Chai and Yogev Atias
Arab MK Ahmad Tibi told Ynet on Monday that he supported Palestinian President Mahmoud Abbas' push to join international accords which would allow the Palestinians to sue Israel for alleged war crimes. "Let them think of the International Criminal Court when they expropriate land and murder Palestinian children," he warned.

Tibi said that "the Palestinian turn to the United Nations is a result of the occupation" and claimed that war crimes always follow an occupation. He said such instances require an investigation to assure "whoever comitted a crime is brought to justice."

The oft-controversial parliamentarian said the Palestinian move to join The Hague was "an attempt to stop the next crime, to stop the settlements and the expropriation of land. I believe the repeated move to stop transferring funds to the Palestinians is an act of piracy, it is the conduct of a gang; this is Palestinian money."

Tibi used an extended metaphor to explain what he perceived as Israeli chutzpah. "This is like a person murdering their neighbor, taking over his house, and stealing from his safe; then, when the victim complains to the police of the murder, the killer arrogantly tells him that he won't return what he stole from the safe."

In his defense of the Palestinian move, the popular Arab politician urged The Hague to take up cases against Israel in order to deter further infractions against international law. "I expect whoever is responsible for war crimes – from the lowest ranks to the highest echelon – will stand trial. The State of Israel is responsible for war crimes, whether it is the settlements or the mass murder of Palestinians."

Switching gears, Tibi said he hoped the Arab factions would unite behind a single banner. "We are making tremendous efforts to assure the Arab factions run together in the upcoming elections. There are difficulties; we want such a list to represent the entire Arab public, to make sure it is not a members-only club."