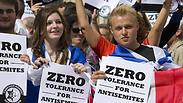 Protest against anti-Semitism in London
Photo: AFP
LONDON - A quarter of Jews in Britain have considered leaving the country in the last two years and well over half feel they have no long term future in Europe, according to a survey published on Wednesday.

Additionally, anti-Semitic beliefs are widely prevalent among the wider public with 45 percent of Britons agreeing with at least one anti-Semitic sentiment, the YouGov poll for the Campaign Against Antisemitism (CAA) group found.

The survey comes a week after four French Jews were killed in an attack on a Kosher supermarket in Paris which led to police stepping up security at synagogues and other Jewish venues across Britain.

"Whilst anti-Semitism in Britain is not yet at the levels seen in most of Europe, the results of our survey should be a wakeup call," said Gideon Falter, chairman of the CAA in a foreword to its report.

"Britain is at a tipping point: unless anti-Semitism is met with zero tolerance, it will continue to grow and British Jews may increasingly question their place in their own country."

Related stories:

Last July, the Community Security Trust, which provides security advice to Britain's estimated 260,000 Jews, said anti-Semitic incidents in Britain had risen to a near record level amid fighting between Israeli forces and Palestinians in Gaza.

According to the CAA's poll of 2,230 British Jews, 58 percent felt Jews might have no long-term future in Europe, 45 percent felt their family was threatened by Islamist extremism and more than half had witnessed more anti-Semitism in the last two years than ever before.

The survey of the wider public found a quarter of Britons believed "Jews chase money more than other British people", and one in six agreed that "Jews think they are better than other people" and "Jews have too much power in the media".

In all, 45 percent of the 3,411 questioned believed at least one anti-Semitic statement shown to them to be true.

France has posted almost 5,000 extra police officers to protect Jewish sites after last week's killings, and on Tuesday, British Prime Minister David Cameron met Jewish leaders to reassure them and see if there was more that could be done to ensure their safety.

"I think we have to recognise that in a modern democracy you can never protect every threat but we should do everything we can and be as vigilant as we can to help reassure," he told them.