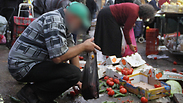 'I want to leave my children a state without 1.6 million citizens below the poverty line'
Photo: Ido Erez
"What kind of country do you want to leave your children?" I was asked by Knesset Member Yair Lapid, along with tens of thousands of other people who received the email with that subject line from his election headquarters.

For me it is a simple question which I am prepared to give a simple answer to. I want to leave my children an Israel with a secured future: A state which does not have (at least) 1.6 million citizens living below the poverty line and which does not have (at least) 2.6 million Palestinian non-citizens living below the occupation line.

On the Offensive

Speaking at a Yesh Atid party conference, former finance minister slams former coalition partners, launches personal attack against Prime Minister Netanyahu.

I would be completely at peace leaving my children the country as it is today, only without these two horrible humps on its back: Without occupation and without poverty.

I am not very concerned about the rest. I am troubled by many negative phenomena, but I have not been losing sleep over them. Neither had my wife. Our children, we are both convinced, will handle them and get along with them.

Corruption in Israel? It's a disgraceful and irritating phenomenon, but it's not deeper and more common here than in many other developed countries. France is more corrupt than Israel, America is more corrupt, Ireland is more corrupt, not to mention Italy.

Apartment prices in Israel? They are very high, but there is not a single developed country which has not been through at least two cycles of ups and downs in the housing market in the past few decades. Israel went through such a cycle not so long ago pretty well, and it will emerge from the current one in one piece too.

Competitiveness in Israel? We are not in a bad place in the international competitiveness indices. There is room for improvement. Market experts and bold entrepreneurs will be tasked with handling this issue.

Poor education? That's definitely a national problem, which can be solved through well-known economic and employment means. If the next education minister serves for two continuous terms, and is not replaced every two years, our children and our grandchildren will have better schools across the country.

A threatening demographic change? It's much less threatening now. The natural increase of a non-Orthodox Jewish family from the middle class is rising quickly. Our children are creating a new list of priorities here.

The defense budget? It's still heavy and yet much lighter than it was at the beginning of the century.

Pensions? Experts from the Organization for Economic Co-operation and Development (OECD) praise Israel's pension system as one of the most efficient, generous and egalitarian in the West. The future deficits can be solved by comparing women and men's retirement age, like in every Western country. It's up to our children to decide.

The list of phenomena in the state's life which need to be repaired one way or another is long, and additional problems arise every few months. It doesn't matter. I trust my children. I have no doubt that they will deal with them successfully.

After all, all these problems are meaningless – yes, meaningless – compared to the economic, social and existential difficulties my generation was forced to deal with and succeeded in dealing with. And we are much less talented than our children.

Nonetheless, we have failed. It's a fiasco which overshadows the achievements: We are about to leave our children a country afflicted with poverty and occupation. These are the two malignant growths endangering its future. The two swords hanging over our children's heads and over our grandchildren's heads, intertwined. And we have failed, so far, to remove them.

"It's a war over the State of Israel," Lapid writes in his email, "over its image and identity." That's right, over its image and identity and not over the cost of living and wheeler dealers.

Because my wife and I and many other Israelis like us want to leave their children a country which does not control another people and which is not indifferent to its poor, we will not stop fighting for the end of the occupation and end of poverty. All the rest is important, but not critical. Temporary, but not essential. Irritating, but not unusual or a threat to Israel's identity, image and future.

You asked, MK Lapid, what kind of country we want to leave our children. Well, here's the answer: A normal country with normal difficulties.