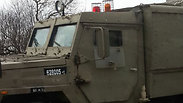 IDF forces on Golan Heights
Photo: Job Shauki, Tuscana Hotel
The Israeli Air Force raised its alert level of its flight squadrons on the northern front on Tuesday, in response to the rocket fire from Syrian territory. Meanwhile, a senior military source said the two rockets were of the 107mm variety.

The source added that the IDF attacked the Syrian military launching pad and claimed that Hezbollah was responsible for the rocket fire. However, he emphasized that Israel "sees Syrian as responsible for all fire emanating from its territory."

In the afternoon hours, two rockets were fired from Syrian towards the Golan Heights and exploded inside Israeli territory. There were no casualties and no damage was reported. IDF artillery forces retaliated and the military spokesperson said a hit was identified.

Military forces conducted searches for the rockets' landing sites and they were located in the northern Golan. At the request of the military, the Hermon ski resort was evacuated of nearly 1,000 visitors. The site will remain closed until further notice.

IDF artillery fired 20 shells into Syrian territory in response to the rocket fire – one of the heaviest barrages on the enemy state in years. Meanwhile, Lebanese media outlet Al-Manar, affiliated with Hezbollah, reported that Israeli Air Force jets were conducting intensive flyovers in the Golan Heights, on the Israeli side of the border.

After the rocket fire, the Golan Regional Council asked residents of towns in which a Code Red siren was heard to remain near their shelters. Several hours later, the military announced residents were free to resume their daily activities.

The IDF raised its alert level on the northern front last Monday in positions along the border with Syrian and Lebanon and deployed an Iron Dome rocket interceptor battery near the northern border, after a strike attributed to Israel killed senior Hezbollah officers and an Iranian general nine days ago.

Both Hezbollah, which is backed by Iran and fought a 34-day war with Israel in 2006, and the Revolutionary Guards vowed to avenge the deaths.