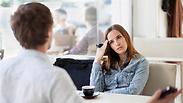 'Girls lack the skill of accurately describing what they are looking for'
Photo: Shutterstock
The local council of Beit El has come up with an original way to deal with the bachelorhood issue in the community: The council has begun employing matchmakers to help single women start a family in Israel.

The initiative was launched following the rise in the number of unmarried women aged 23 to 30. The council began searching for a matchmaker to initiate meetings between single men and women and help them find potential partners.

Dating Entry

New computer program aims to help National-Religious singles find love via simple questionnaire.

"It's a serious problem," says a community resident, adding that she believes the rise in the number of singles stems from lack of motivation to turn to matchmakers and dating websites.

Council Member Chaim Silverstein submitted a proposal on the matter following recent council meetings which revealed the increase in the number of unmarried women living in Beit El.

According to the proposal, "Experience shows that the girls lack the skill of accurately describing themselves, let alone what they are looking for."

An internal discussion held by the local council revealed that some of the single women have left the community and pointed to another difficulty stemming from the level of observance. Therefore, according to the meeting's participants, the match must cover the entire religious spectrum.
One goal: A wedding
Ahuva Wallach, a matchmaker from Beit El who co-initiated the program, told Ynet that "the initiative came from one of the community's resident, who was upset to see her students still single in their late 20s. Because the program requires a lot of financial resources, we decided to raise the idea in the council meeting, and then decided to work together as a group – voluntarily."

Forty matchmakers have signed up for the program so far. They have started a group on Google in which they recommend potential matches.

"The project is still in its infancy and there have been no success yet," says Wallach. "We have one goal: That it will lead to a wedding. I am hoping to see results within a few months."

According to the plan, the matchmakers will help interview men and women, form a list of singles and escort couples on meetings, as well as provide tips.

An official at the local council of Beit El confirmed the report, saying that "the council did establish the initial contact with the matchmakers, who are all working as volunteers without being paid."