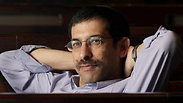 Uri Orbach
Photo: Alex Kolomoisky
The government will convene at 3:00 pm on Monday for a special session to mourn the passing of Bayit Yehudi minister Uri Orbach. In recent weeks Orbach has been hospitalized for a chronic blood condition. He was 54.

Prime Minister Benjamin Netanyahu eulogized Minister Uri Orbach after his passing. "Despite his exceptional wit he did not have an ounce of evil in him. I never heard of one person who met him and did not love him. Yesterday, standing with his family, I said my goodbyes to him in the hospital, feeling sorrow and a sense of deep loss."

He added: "Uri will be missed by his dear family, his friends in the government, and the State of Israel."

Bennett eulogized his friend after his passing. "My older brother has left me. Uri, a man of joy, of wisdom, of integrity, of courage, and of vision. Uri knew to pave the way ideologically with persistence and grace, with diligence and with a wink, with endless self-awareness and a personal charm that never faded."

Bennett said his close friend "knew how to thrill kids with his books and make parents laugh with his wit. There was no one in this cold, cynical world of politics a more beloved man than Uri. I will miss him greatly."

He added: "Today I lost a dear friend, a friend in difficult days and days of joy, a man to turn to and to laugh with; I lost a friend who I would not be here had he not been in my life. I sent my condolences to his wife Michal and to the four children. We will continue to follow in Uri's trail, but it will be much more difficult and much sadder without him."

Yesh Atid chairman Yair Lapid joined the eulogy chorus after the minister's passing. "More than a colleague and a coalition member, I will always remember my friend Uri Orbach as a person who worked for the elderly and the pensioners in the State of Israel."

He added: "Despite our difference of opinions, we maintained a close personal relationship; I will miss him greatly."

Meretz chairwoman Zehava Gal-on, an ideological opponent of Orbach, sent her condolences to his family. "Orbach was a decent man, pleasant and sharp, with a unique world view; he was a dedicated and diligent parliamentarian. He knew how to bridge between the different worlds of Israeli society."