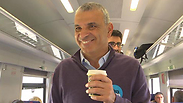 Kahlon takes his campaign to the train.
Photo: Yaron Sharon
Political contender Moshe Kahlon, ex-Likudnik and head of the Kulanu party, took his campaign to the train Wednesday, greeting passengers traveling from Haifa to Tel Aviv taking questions from them.

Many of the passengers did not cut the politician any slack and went straight to the heart of the matter – asking Kahlon why he has not officially announced whether he will join a government led by Prime Minister Benjamin Netanyahu.

"I want to vote for you," said one of the passengers to Kahlon, "but I'm nervous that I'll find you joining a leftist government."

Kahlon responded to the woman: "I will join whoever makes room for my agenda. I do not rule out anyone, I see myself in every government. Why did I leave the Likud? Because I was not able to do the things I want to do in the Likud. I joined the Likud because of social issues, and I left the Likud because of social issues."

Despite the tough questions, Kahlon was treated as a celebrity among the passengers of the train. Onlookers pointed at him, supporters flattered him and there were a few soldiers who were brave enough to ask for a selfie with the politician.

Of Kulanu's recent drop in the polls Kahlon said, "There is no doubt that there's a drop in morale. When we are predicted 10 seats the morale rises, and when we are predicted seven seats the morale drops. But the real survey will be on election day. We have a line that does not change whether it's winter or summer, and this is the social-economic line and solutions for housing."

During the ride, Kahlon met Sofie Katz, 35, married and a mother of two, who criticized the politician on a subject of his expertise – the real estate crisis. "I'm your target audience," Katz said to Kahlon. "I don't have an apartment and we are unable to save up enough. It's obvious that the problem here is interest: People kill themselves over mortgages of a million shekel with low incomes, and when the interest goes up they will find themselves going under without being able to get back up. The issue is not the supply, but rather to get investors to stay away from the market of real-estate investments."

Kahlon responded to Katz and referred to his economic plan, "At face-value, your claim is correct, but that is just part of the solution. It is not right to solve one problem and create another one. It's complicated to separate between interest and mortgages. We must produce sources for capital other than those we have today and competition in banking. We must create supply - otherwise we will not succeed in lowering the price of housing. Currently, there is a shortage of 150,000 housing units and every apartment that is built is immediately bought. You rent at a high price because the homeowner is taking advantage of you. My daughter pays 6,000 shekel a month. This is a result of a shortage."

When Katz offers that the solution could be to bring Chinese contractors to Israel, Kahlon disagreed and said: "Contractors will not be able to hold the infrastructure and profiteer it. There will be a tax for those who sit on lands. Small contractors must be given an opportunity."

As Kahlon continued to make his way down the train, Katz said: "He has good intentions. I'm considering voting for him in order to punish those who did not fulfill their promises. The housing market has reached an explosive point, and nobody wants to touch this hot potato. I do not know if he will succeed in changing it."

Kahlon fears that diplomacy and security will take over the government's agenda, and according to Kahlon, the attention given to the state comptroller's report on the spending at the Prime Minister's Office is taking away attention from what matters most.

"The report has difficult findings. It is not comforting to hear that the prime minister and his family operate in this way. But that is for the public to examine. When it becomes the central issue, we forget the real problems that brought us to this election," said Kahlon.

Kahlon also referred to the state of public transportation in Israel and said: "Public transportation has always been a second priority for investment compared to private vehicles. But public transportation and connecting the periphery to the center is a national mission and a top tier social issue. Connecting the periphery to the center has big implications for the economy and the ability of hundreds of thousands of citizens to earn a decent living and buy a home."

"The availability of lines, quality of infrastructure, consistency of schedules and synchronizing the different forms of transportation are national missions. In order to beat the housing crisis, we must also beat the issue of public transportation and this is exactly what I plan to do."