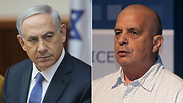 Netanyahu and Diskin
Photos: AP, Alex Kolomoisky
With four days to go before Israel's election, former Shin Bet chief Yuval Diskin joined on Friday calls of support for Isaac Herzog as prime minister. "Why is this the time to give Herzog a chance? Mainly because Netanyahu failed in almost every field and because Herzog is the best alternative," Diskin wrote in a Facebook post on Friday.

The ex-Shin Bet director wrote that while he was not a member of the Zionist Union and was not contending in the elections, he is a "big believer in a center-left Zionist bloc that will form a coalition together, joined by other partners who will return Israel and the Israeli society to a state of unity and sanity, to a closing of economic and social gaps, to a halt in the racism and the nationalistic rants, to good and clean patriotism, and to security and international legitimacy."

Diskin delivered harsh words to Prime Minister Benjamin Netanyahu, writing that: "If you take out his speeches, his impressive press performances and his fluent English – almost nothing remains from Netanyahu's last six years. What you're left with is mostly failed actions."




"Netanyahu has failed in almost every field he dealt with in recent years. In the economic-social field, his 'biggest success' was his crumbling of the 2011 social protest. Since then, the cost of living continued to rise significantly, the housing crisis worsened, the poverty increased and reached scary proportions, and the social and economic gaps continued to grow."

Referring to Netanyahu's conduct in the political arena, Diskin said: "Netanyahu's negotiations with the Palestinians failed. The talks were conducted with amazing ineffectiveness and even worse – they were in a completely dubious 'back channel' setting."

Commenting on the concessions document recently published by Yedioth Ahronoth, Diskin said: "Hussein Agha (Palestinian President Mahmoud Abbas' affiliate) represented the Palestinian side in the negotiations. Abbas clarified to the Israeli side 5 years ago that Agha was not his confidant and does not speak for him, but the negotiation channel proposed by Abbas failed because Molcho (Netanyahu's senior aide, lawyer Yitzhak Molcho) preferred Agha's 'comfort zone' rather than an effective channel."

Moving on to Netanyahu's security efforts, Diskin said: "If we look at what Netanyahu managed to do in the six years of his term, we find very problematic elements: 1,000 terrorists were released for Gilad Shalit by the person who objected to any release of terrorists in the past. Additionally, Netanyahu freed dozens of terrorists, some of them dangerous, in a shady deal supported by the Bayit Yehudi, designed to avoid the construction freeze in the West Bank. He conducted two military campaigns against Hamas, but they did not gain decisive results."

Diskin further added that Netanyahu's term was especially marked by the damage he caused to relations with the United States. "The chance of sanctions imposed on us due to the political deadlock with the Palestinians, continued construction in the West Bank and defiance in the face of the international community, is increasing. The problem is that Netanyahu cannot lead a political move. He has already proved himself as someone who cannot make historical decisions in any field, including the Iranian nuclear issue."

The former Shin Bet chief concluded his post by explaining his decision to support Herzog for prime minister: "Netanyahu failed in every field for the past six years, and a prime minister who failed so colossally has to go home. Herzog may not be the perfect candidate, but under the current circumstances, I don't see any other better alternative. I believe that Herzog will display maturity, responsibility and that he has the proper political instincts that will enable him to form a coalition in the face of the opposing interests that will appear after the election day."

"Buji can't be any worse than Netanyahu. He can only be better," Diskin said. "I believe that Herzog will be level-headed and cautious, and will know how to restore Israel's strategic relationship with the US administration."

Diskin added that he believes Herzog "understands the importance of regulating Israel's relations with the neighboring countries and with the Palestinians, without compromising Israel's security interests."