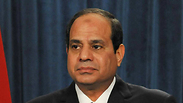 Al-Sisi. The last thing he needs is Israelis running around his territory
Photo: AP
This is the last thing Egyptian President Abdel Fattah al-Sisi needs: Having Israelis – ministers, Knesset members and economic leaders – running around his territory and taking election selfies or doing business at his expense.

Thirty country leaders, 100 states, dozens of financial companies, bank managers and more than 1,000 potential investors from the wide world and from Arab states arrived at the Sharm el-Sheikh conference over the weekend. Al-Sisi decided on the banner – "Egypt the Future" – and didn't let anyone fall into illusions: The future depends on billions of dollars in donations, which will get Egypt out of the deep hole it fell into four years ago. If Egypt collapses, al-Sisi is warning, the danger will threaten all of the region's country.

New Egypt

Analysis: The general-turned-president would like to send Egyptian forces into the West Bank and Gaza, as a temporary measure until Israel and the Palestinians strike a peace deal; as tempting as it sounds, Israel would do well to be cautious for now.

And who wasn't there? A large headline in the Al-Ahram daily explained that Syria, Iran and Israel were not invited because "they don't meet the criteria of investments in Egypt. Iran couldn't be invited because of Saudi Arabs, which pledged to donate $4 billion to Egypt. They wouldn't dream of inviting Syria while President Bashar Assad, and not just the Islamic State, is still murdering. And Israel? State officials in Jerusalem actually tried to argue with Cairo. There is an open peace agreement, there is strategic coordination and a security honeymoon, we have shared interests, the same enemies, and we also have a lot to offer in high-tech, agriculture and infrastructure.

We got plenty of excuses: That the conference is being sponsored by the Arab League (not true), that they don't want to embarrass rulers whose countries don't have ties with Israel (who says they don't?), and mainly "the time hasn't come yet."

Egypt isn't interested in getting involved in the elections; and Jerusalem, as far as I understand, didn't give up easily. Officials continued their pressure even after the invitations were sent out, suggesting – oh so miserably – that the Israeli flag would not be raised in Sharm el-Sheikh.

Instead of an invitation, we received a picture of four people: Al-Sisi, US Secretary of State John Kerry, Palestinian President Mahmoud Abbas and Jordan's King Abdullah. It's not hard to guess who was absent-present and what were the topics under discussion.

At his own initiative, al-Sisi is now revealing that he actually talks "a lot," in his own words, with Prime Minister Benjamin Netanyahu. They talk about Iran, about Hamas in Gaza about Israel's lobbying for him (quite unsuccessfully) on Capitol Hill and the approval to let Egyptian military forces and Air Force choppers into Sinai to fight the terror infrastructures there. Israel approves, al-Sisi announces with satisfaction, despite strict restrictions in the peace agreements. Because this is the real peace.

Nonetheless, the way al-Sisi sees it, an Israeli presence in the conference is a thorn in his side. The Sharm conference is not just a fundraising campaign. It's a test of his power in the Gulf, in the Arab world and in the international arena.

On the eve of the conference, an American Congress member shot a blatant question at him: Aren't you afraid that your fate will be similar to that of one of your predecessors, Anwar Sadat, who was murdered by Islamists? Al-Sisi informed him that if the Egyptians don't get help, all options are on the table.

But Secretary of State Kerry didn't announce that the United States is planning on investing. Obama is up to his neck in his filtration with Iran, he hasn't gotten over the Muslim Brotherhood's ouster, and is insisting on keeping open channels with them. And if we're talking about Netanyahu and Obama, we should pay attention to the fact that Washington didn't set an ultimatum for al-Sisi: Either invite the Israelis or we won't come.

A huge security operation took place behind the scenes to curb (thanks to our security establishment as well) terror attacks. That way, al-Sisi was able to present his ambitious plans to expand the Suez Canal, establish new factories and build the "new Cairo," where the government offices, the presidential palace, the foreign embassies and the investors' management companies will move to. Israel is being left, until further notice, out of the picture.