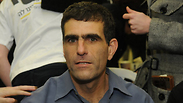 Mossi Raz at the 2008 Meretz primaries
Photo: Yaron Brener
Losing an election can be frustrating, but there is one Israeli politician who has felt the bitter taste of frustration more than others - Knesset hopeful Mossi Raz, from the left wing Meretz party.

Raz has contended in all of Israel's six last election, but each time his party fell one single seat short, leaving him out of the Knesset.

In 1999, he won the 11th spot on the party ticket, but Meretz ended up with only 10; in 2003, he was placed seventh, but the party won only six; in 2009, he was fifth, but (you guessed it) the party got four; and this time around he was sixth while the party won five.

As his position within party ranks seemed to climb, he bore the brunt of the drastic decline in the party's support. But Raz seems to attribute the reason for his chronic failure to get elected to something else - inner-party politics and his position on the party roster.

In a Facebook status chronicling his ironic election results, Raz noted that each time he actually ranked higher on the party slate, but was moved back because of places reserved for minorities and women.

To secure full representation, like many parties in Israel, Meretz reserves certain spots on their tickets for different social groups. Meretz has spots earmarked for women, Arabs and Kibbutz members - one of the party's historic constituencies. The Likud and Labor parties also reserve such positions for different groups and party officials.

Meretz also has a complex internal election system designed to be incorruptible, but almost impossible for newcomers to pass, creating a situation in which high-profile candidates courted by the party leaders to draw voters stand little to no chance to get elected through the party primary. Instead, the party chairman uses their power to reserve a spot for such candidates.

Both have resulted in Raz being pushed back a few spots. So for example, in 1999, he came in 10th in the party primary, but was placed in the 11th spot because number 10 is reserved for an Arab candidate.

In the 2015 elections, Raz's frustration can be said to be double: Meretz had initially received only 4 seats, prompting Meretz chairwoman Zehava Gal-On to vacate her seat in face of the relatively poor election result. However two days later, after the soldiers' ballots were counted and surplus votes distributed, Meretz jumped up by a seat to five. At this point, Raz was, as the number 6th spot, was going to be an MK, however Gal-On backtracked her decision, saying that with 5 seats she no longer felt the responsibility to step-down.

Raz did eventually serve in that Knesset, from 2000-2003, after then-Meretz chairman Haim Oron vacated his seat, moving everyone up a spot.

So, despite insinuating criticism at the party's system, he also remembers how it can work to his advantage, and thus Raz ends his post with the vow not to lose his commitment to Meretz's core values - peace with the Palestinians, human rights and social justice - and expresses his support for the party.