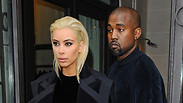 Kim Kardashian and Kanye West
Photo: Splash News
Get the red carpets ready and the cameras rolling: Kim Kardashian and Kanye West, one of the most famous couples in the world, are planning to visit Israel next month.

Yedioth Ahronoth has learned that the two have booked rooms at the Waldorf Astoria Hotel in Jerusalem and are expected to arrive in the holy city on April 12 or 13. The couple will likely spend a few days in the Israeli capital before flying over to Jordan.

Sources in the entertainment industry say an Israeli security company which specializes in guarding VIPs has already been hired ahead of the visit.

Another Guest

Iconic American actor to arrive with Israeli director Joseph Cedar for Jerusalem shoot of 'Oppenheimer Strategies,' a political thriller about a NY Jew's relationship with an Israeli politician.

According to the sources, all the people involved in the Kardashian-West visit have signed a confidentiality agreement worth millions to prevent any leaks to the media. As a result, the Waldorf Astoria Hotel refused declined comment and refused to answer any questions on the issue Tuesday.

It's unclear whether the expected visit has anything to do with reports that the Kardashian family is planning to purchase a luxury apartment in Tel Aviv.

Kim Kardashian, 34, is probably one of the most famous women in the world today, an entertainment and gossip icon who has more than 30 million follower on Twitter and 28.3 million followers on Instagram.

Her husband, Kanye West, is one of the most famous musicians in the world – a rapper, singer-songwriter and producer. The two married in May 2014 and have one daughter, North West.