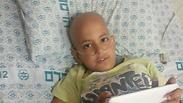 An 11-year-old boy fighting for his life can be saved with a new drug – but his family needs help paying the astronomical price.

Noam Eliyahu Benita, a resident of Efrat, was diagnosed in May 2013 with a malignant tumor above his right knee. He suffers from osteosarcoma – a type of bone cancer. Noam has been through two rounds of chemotherapy. Just before he was to undergo surgery, doctors discovered the tumor had spread and he would require further treatment.


He went through an additional series of aggressive treatments, after which he had surgery to remove the cancerous bone. A metallic bone was inserted to replace it, to be extended as he grows. After the surgery h e received another round of chemotherapy and was released from the hospital, tumor-free, on Passover Eve last year.

Six months after the end of the treatments, a growth was found in his lung, necessitating another surgery for its removal. A sample was sent to a special lab in the United States, which discovered that the cancerous cells contained a substance preventing Noam's immune system from attacking the tumor.

His doctors established that Keytruda, a new medication, contains a substance that could allow the body to attack the growth and destroy its cells. According to his doctors, Keytruda is his only hope for survival.

Every Keytruda treatment costs NIS 50,000 and it is given every three weeks. The estimated overall cost is NIS 2 million. Noam's condition continues to deteriorate in the meantime, and the cancer is metastasizing in his body.

"Noam is a very brave child," said his father, Moshe Benita. "I admire him for how he copes with the pain, with the suffering, and with the childhood that was stolen from us. He strengthens us, really, during such a hard time."

Noam's father has worked for many years as an MDA parademic, and his mother is a professional nurse. They are both familiar with life-saving measures. But they struggle to hide their tears when they discuss saving their son's life.

"I've seen car accidents, I've been at many terror attacks, and this is many times harder," said Moshe Benita. "We don't want to show Noam that we are breaking. We try to be strong when we're near him. But we don't fully understand the medical ramifications and meanings of the disease, and when we are alone together – the tears flow."

How you can help:

The "Friends for Health" volunteer organization has offered to accept donations to save Noam's life.

One hundred percent of all profits will go directly to purchasing medicine for Noam.

The "Friends for Health" website allows payment with a credit card or Paypal account.

A phone line is available to accept credit card donations at +972-3-577-7666.

Checks may be sent to "Friends for Benita Noam Elihyau" at the "Friends for Health" office address: PO box 6782, Ramat Gan, 52167.