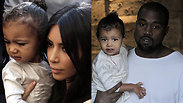 No Censorship: Kim Kardashian and Kanye West with daughter North in Jerusalem
Photo: AFP
An Israeli ultra-Orthodox Jewish news website has cut Kim Kardashian – one of the world's most photographed women – from a photo taken of her in Jerusalem this week.

The original photo of Kardashian, her husband, Kanye West, and Jerusalem's Mayor Nir Barkat was altered to put Kardashian behind a restaurant receipt. Kardashian was blurred in another.

Celebrity Visit

Hours after famous couple lands in Israel, true nature of visit revealed: Baptism for North West at Cathedral of St. James in Armenian Quarter of Jerusalem.

Nissim Ben Haim, an editor at the Kikar Hashabat website, said Wednesday they removed Kardashian because she's a "pornographic symbol" who contradicts ultra-Orthodox values.

In an article chiding Barkat for dining with them at a non-kosher restaurant, Kardashian was referred to as "West's wife."

The incident reached the Washington Post, which stated that Kikar Hashabat "may be the first publication to remove Kim Kardashian from a photo."

According to the major American newspaper, "She was in the Holy Land for less than 24-hours Monday, but it was still enough time for mega-celeb Kim Kardashian to cause a mini-scandal and, perhaps for the first time ever, have her photogenic face cropped out of a photo."

The newspaper reported that as Kardashian and West headed back to their private jet at Tel Aviv's Ben-Gurion Airport on Tuesday morning, Barkat "found himself in hot water with the ultra-Orthodox Jewish constituents in his city" for dining with the famous couple in a non-kosher restaurant.

The Kikar Hashabat website offered the following response: "We have no problem with women's pictures; we have a problem with pornography."

The website's editor-in-chief, Haim Iluz, added that "the couple was mentioned in an article about Jerusalem Mayor Nir Barkat's disgraceful decision to dine and officially host people in a treif restaurant (a restaurant which offers food that does not conform with the Jewish dietary laws of kashrut).

The name of singer Kanye West's wife was not mentioned in the article in order to 'stay away from ugliness and that which resembles ugliness.'"

Within the insular Ultra-Orthodox community, pictures of women often aren't shown out of modesty. In January, an ultra-Orthodox newspaper removed German chancellor Angela Merkel from a photo.