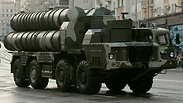 S-300 system
Photo: Reuters
US President Barack Obama said on Friday he was surprised Russia had waited as long as it did to seal a deal to sell missile defense systems to Iran, given the tensions between Russia and the United States.

Obama said the sale was initially set to occur in 2009, but Russia put it on hold at the United States' request. Russian President Vladimir Putin said on Thursday the sale was resumed because of progress in nuclear talks with Iran.




Earlier on Thursday, US General Martin Dempsey told a news conference at the Pentagon that the US military option against Iran's nuclear program remains "intact" despite Russia's decision to go ahead with delivery of S-300 missile defense systems to Tehran.

"We have known about the potential for that system to be sold to Iran for several years and have accounted for it in all of our planning," the top US general said.

Russian President Vladimir Putin said on Thursday Iran's drive to find a solution in talks over its disputed nuclear program had spurred his decision to renew a contract to deliver S-300 missile defense systems to Tehran.

Moscow's move to provide the surface-to-air missile system to Tehran, which irked the West and drew protests from Israel, followed an initial deal under which Tehran would curb its nuclear activities in exchange for an end to economic sanctions.

"With the progress of the Iranian nuclear track - and that is obviously positive - we do not see any reason to continue to keep the ban (on the delivery of the S-300) unilaterally," Putin told his annual marathon call-in show with Russians.

A final deal with six world powers is due in June but Moscow has moved quickly to try to secure contracts in Iran before international sanctions are lifted and has urged engaging Tehran more in attempts to solve regional crises.

Obama also said on Friday that a bill allowing Congress to review a deal concerning Iran's nuclear program was a "reasonable compromise" he planned to sign, and he expressed confidence it would not derail talks with Tehran.

Obama told a White House news conference that Senate Foreign Relations Committee Chairman Senator Bob Corker and the panel's leading Democrat, Ben Cardin, had agreed they would protect the bill from "poison pills" amendments that would be tilted toward trying to kill an agreement with Iran.

Since the White House said on Tuesday that Obama would sign the bill, it has sought to reassure anxious negotiating partners. Talks are aimed at curbing Iran's nuclear program in exchange for relief from sanctions.

"The final product that emerged out of the Corker-Cardin negotiations, we believe, will not derail the negotiations," Obama said. "Assuming that what lands on my desk is what Senators Corker and Cardin agreed to, I will sign it."