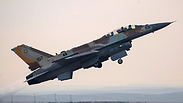 IAF F-16 fighter jet
Photo: EPA
Report: Israel airstrike hits Syrian, Hezbollah targets in al-Qalamoun
Al Jazeera reports IAF planes targeted 155th and 65th brigades of the Syrian army, which deal with strategic weapons and long-range missiles, on the Syrian-Lebanese border; Al Arabiya reports Israel attacked 2 weapons convoys on Wednesday.
Israeli fighter jets allegedly hit Syrian and Hezbollah targets on the Syria-Lebanon border Friday overnight, Al Jazeera reported Saturday.

According to sources quoted by Al Jazeera, the attack in al-Qalamoun targeted the 155th and 65th Brigades of the Syrian army, which deal with strategic weapons and long-range missiles.

The sources reported several explosions in the Syrian towns of Al-Qutayfah, Yabroud and Qarah on the outskirts of Damascus.

Al Arabiya reported the attack targeted Syrian weapons depots, and that on Wednesday Israel allegedly attack two weapons convoys, reportedly killing one person.

Sources confirmed to Lebanese news site Elnashra that Israel attacked Syrian posts near Qarah. Elnashra is a site known for its pro-Assad and pro-Hezbollah coverage.

The IDF declined to respond to the reports. Syrian regime-affiliated media and Hezbollah-affiliated media have yet to report the alleged attack.

According to foreign sources, Israeli air force have allegedly carried out several raids against targets in Syria, including depots storing weapons meant for Hezbollah, since the conflict there started over four years ago.

Though Israel had maintained a policy of neutrality regarding the Syrian war, the most recent strike was said to be in January, when Hezbollah commander Jihad Mughniyeh, the son of Lebanese terrorist Imad Mughniyah, was killed along with other Hezbollah fighters and a senior Iranian Revolutionary Guards commander.

Last December, Israeli warplanes reportedly struck weapons warehouses near Damascus.

Israel has never confirmed it carried out the strikes, but it says it has a policy of preventing arms transfers to militant groups including Hezbollah.

Yoav Zitun contributed to this report.