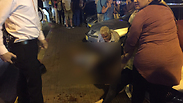 Scene of shooting in Eilat.
A 15-year-old teenager was wounded on Saturday after gunshots were fired at a car in Eilat, Israel's southernmost city, during an alleged assassination attempt.

According to Magen David Adom, two other girls who were in the vehicle, ages 8 and 10, sustained light wounds.

The wounded were taken to the Yoseftal Hospital in Eilat.

On Friday night, a 30-year-old man was seriously wounded near a shopping center in Eilat, according to Magen David Adom. The man was also taken to Yoseftal Hospital with stab wounds to his upper body.

It was unclear if the two incidents were related.