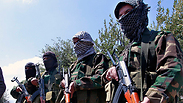 Hezbollah commandos in Lebanon
Photo: Associated Press
The attempted across Israel's border with Syria on Sunday night would not be the first time that the Lebanon-based Hezbollah organization has tried place explosives beyond the border fence, in Israeli territory.

The aim was to place explosives so that the shrapnel would wound IDF patrols on the Israeli side of the border, leaving no Syrian fingerprints that could give Israel grounds to attack Damascus.

In the aftermath of the attack it is still unclear if Hezbollah was responsible. But it is certainly highly likely, using its own fighters and locals who work in its name.

The area where the explosives were planted is close to Syrian army fronts and is controlled by the Syrian regime, unlike the central and southern Golan Heights, which are under control of the rebels.

An almost identical type of attack occurred in March 2014, when an explosive was placed beyond the border fence, on the Israeli side, hitting an officer and soldiers from the Paratroopers Brigade.

The attack was similar to several others on the Lebanon border, with Hezbollah taking advantage of the fact that Israel built the border fence slightly to the west, several feet from the cease-fire line, so that it would be in a better topographical position to block infiltrations and shooting.

The intention was to hurt the IDF, and the reason is clear. According to foreign reports, Israel on Friday night attacked an arms shipment headed to Hezbollah, and Hezbollah, which has adapted a new "zero-tolerance" policy, responded immediately.

The fact that the attack attributed to the IAF killed Hezbollah operatives and Syrian soldiers most likely made the response by the group even more pressing. No one, therefore, should be surprised by the attack, and the skill of the IDF combat battalion that tracked the cell and was able to dispatch an IAF jet should be appreciated.

It should be noted that it was not necessarily members of Hezbollah who placed the explosives or were wounded in the mission. But it is clear that those who placed the explosives were in the pay of the organization, as has been true in the past. For example, previous operations have involved Palestinians from Ahmed Jibril's organization, the Popular Front for the Liberation of Palestine – General Command, which is loyal to the Syrian regime.

Stopping the attempted attack has reopened an account that Hezbollah wanted to close, and one can expect similar attempts in the future. In the meantime, the IDF is not taking any special measures, but there is no doubt that that there will be heightened intelligence awareness on the Golan Heights and in the north in general.

Hezbollah leader Hassan Nasrallah will try to find Israel's weak spot, and he will not give up.