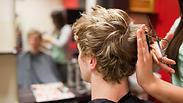 'I brought a lot of respect to Palestine' (illustration)
Photo: Shutterstock
While Prime Minister Benjamin Netanyahu and Palestinian President Mahmoud Abbas use every opportunity to lash out at each other, remarkable cooperation has been recorded between Israelis and Palestinians in the field of hair design.

Hairstylist Asma Massimi of Nablus defeated hundreds of competitors from Israel and around the world recently when she won the first place in the "everyday hairdo styling" category in an international championship organized by OMC – the Israeli association for national hairdressers, makeup artists and beauticians, which was held at Tel Aviv University.

Massimi brought along a model from Nablus and designed the hairdo on her head. While hairdressers from Jordan and Turkey boycotted the competition, she had no hesitations.

"I attended the competition in the past, and this time I decided to participate. I brought a lot of respect to Palestine," said Massimi, who won high-quality Japanese scissors worth NIS 6,000 (about $1,550).