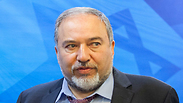 Lieberman chose to bid farewell to all the perks he has gotten used to
Photo: Emil Salman
Were the elections worth Netanyahu's new coalition?
Analysis: It's not every day that a politician gives up the most desirable portfolio and chooses to go to the frustrating opposition; but Lieberman will now have the pleasure of watching Prime Minister Netanyahu, who was crowned king of the world only last week, struggle with a 61-MK coalition.
Avigdor Lieberman did it again. In the worst timing as far as the prime minister is concerned, a moment before Benjamin Netanyahu presents his new government at the end of the period permitted by the law, when it already seemed that Lieberman had no intention of bidding farewell to the most desirable portfolio in the government – he struck again.

Composedly, barely hiding the pleasure involved in a move which creates a big mess in the Prime Minister's Office, he did what we wrote, said and predicted he may do, but which we found difficult to believe. Because with all the cynicism and criticism over the way Lieberman chose to say goodbye to the Netanyahu government, it's not every day that a politician gives up the most desirable portfolio, which the Likud Knesset members are willing to kill for and which Bayit Yehudi Chairman almost – well, almost nothing.

Political Divorce

Op-ed: In an unprecedented political move, the Yisrael Beytenu chairman said no to extortion and no to crushing democracy. Meanwhile, the spineless MKs of Likud and Kulanu are keeping quiet about Netanyahu's clearance sale.

So one can say that Lieberman had no choice. Entering a government which has sold all its assets to the haredim – particularly assets which Lieberman had a part in – is anyway a death certificate for the Yisrael Beytenu party. How would Lieberman be able to present to his voters an agreement surrendering to Netanyahu? What would he say to them about the decision to freeze the conversion law, cancel the equal share of the burden law, restore child allowances and yeshiva students' allowance, and mainly, how would he explain his acceptance of the prime minister's whim to prevent Yisrael Beytenu MK Orly Levy-Abekasis from receiving the most obvious appointment in this coalition: Chairwoman of the Knesset's Labor and Welfare Committee?

But Lieberman is an experienced and sophisticated politician. He knows that what you see today from here is not what you see tomorrow from there, and that after a day and a half of harsh criticism over his opportunism and the fact that he sold his principles, he would have relaxed in the foreign minister's seat or pampered himself with a visit to Belarus, still having the option to leave the government whenever he pleases.

Despite all that, Lieberman chose the hard, frustrating way of going to the opposition with his six Knesset seats and bidding farewell to all the perks he has gotten used to. In the press conference in which he announced his decision, Lieberman preceded the commentators by saying: "I know that the headlines will again be 'Lieberman's enigma,' and 'The unexpected Lieberman.'"

So there, we said it: The unexpected Lieberman.

But there are small pleasures. Lieberman will now watch Netanyahu, who was crowned king of the world only last week, the man who can do whatever he wants, struggle in the Knesset with a 61-MK coalition. If there is something Netanyahu doesn't like, it is to depend on others. And with what Lieberman left behind, the prime minister will also have to depend on those who have just been elected and sit in the back benches of the Knesset. Every MK who is annoyed with Netanyahu will be able to disappear from the plenum during votes and prevent bills from passing as much as he or she wants. This is a coalition in which every bastard is a king, and Netanyahu will find himself with 61 such bastards.

If anyone thought that Lieberman quit because the coalition is too right-wing, too nationalistic or too anti-democratic – they should not be confused. It turns out that this government, a rightist-haredi government, is not rightist enough and not nationalist enough for our foreign minister. After presenting the reasons for his decision on Monday, there is no reason why he shouldn't take the most right-wing spot immediately, pushing Bennett and Uri Ariel away from there.

The Likud ministers – at least four of whom see themselves as candidates for foreign minister – should take a deep breath. The chance that any of them will serve as foreign minister in the next government is as big as the chance that Bennett, another candidate for this portfolio, will receive it.

As far as Netanyahu is concerned, there is more than one reason why he shouldn't give it to them, and not even a single reason why he should. At least in the first stage, if there is more than one stage, Netanyahu will keep the portfolio, together with the Communications portfolio. In the near future we will hear about secret meetings, secret messengers, contacts and attempt to bring the Labor Party, or part of it, into the coalition.

Don't get too excited. The shares of Netanyahu's coalition have dropped in the past 24 hours and have now been painted red. Members of the Labor Party, where first cracks were exposed Monday with Shelly Yacimovich's harsh criticism against her party's two-headed leadership, will not let Isaac Herzog escape into the coalition at this time.

And all we, the state's citizens, have to ask, is what was all this for. Is this what we went to elections for? Did we spend billions and bring the country to a standstill for many months for this narrow coalition, which has a majority of one vote and is basically a combination of narrow, sectorial interests and couldn't care less about the state's best interests?

Was it all worth it?