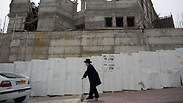 Construction in Ramat Shlomo
Photo: AFP
Israel has approved 900 new homes in East Jerusalem Jewish neighborhood Ramat Shlomo, watchdog Peace Now said Thursday.

Israel first announced the plans in 2010 during Vice President Joe Biden's visit to Israel, sparking a diplomatic spat with Washington.

US State Department spokesman Jeff Rathke on Thursday called it "damaging and inconsistent" with resolving the conflict between Israel and the Palestinians with a two state solution.

Israel captured East Jerusalem with its Jewish, Christian and Muslim holy sites from Jordan in the 1967 Six-Day War. Palestinians demand the area as their future capital.

Related stories:

Israelis view the East Jerusalem areas as regular neighborhoods. The international community rejects them areas as illegal settlements.

"The secretary-general is deeply concerned by recent announcements of plans by Israeli authorities for 900 settlements in East Jerusalem that are illegal under international law," the spokesman for Ban Ki-moon, Stephane Dujarric, told reporters Thursday.