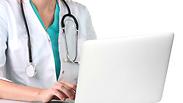 Illustration
Photo: Shutterstock
Israelis are about to get a helping hand when it comes to health care, in the form of the Doctors Channel, a new YouTube channel offering information and advice about illnesses and the best ways to treat them.

The new venture aims to present simplified medical information online, drawing on advice from 75 specialists in 17 medical centers to deliver health information to the Israeli public in an accessible manner.

The channel, which is run by volunteers, was created in the wake of recent studies showing that Israeli surfers use the Internet as their main source for medical information.
180 videos, 75 diseases
Free of marketing content (including advertisements, which are blocked) the channel includes a wide range of subjects related diseases and their causes, diagnostic methods and treatment options.

The channel also provides information about the patients' rights within the Israeli health system, as well as links to hospitals, medical centers, NGOs websites and other useful sources of information. Users are offered subtitles for every video, with a choice of Hebrew, English, Russian or Arabic.

In its first year, the channel will have 180 videos, covering more than 75 common diseases and medical conditions. In addition, the channel will feature public information videos produced by the Health Ministry and lectures on health and innovation from "TedMed Live Jerusalem Center", held in Israel. .

"The average surfer has to deal with medical terms are difficult to understand. The information is often different and sometimes contradictory, causing confusion and helplessness," says Menahem Fainaru, professor of Medicine at Tel Aviv University, who worked on the project.

"Our goal is to help patients cope better and exercise their rights for quality service in the Israeli healthcare system."

The establishment of the Doctors Channel was made possible thanks to a unique cooperation between the Society for Patient Rights in Israel, AbbVie and 17 medical centers and hospitals, under the sponsorship of TEDMed Live Jerusalem Center, the BWell Health and Wellness Club, and Fusion Medical & Scientific Animation. The channel is supervised by Prof. Menahem Fainaru, and was built with the help of Google and YouTube-Israel specialists. The videos are presented by Ran Reznick, a health reporter and publicist, and Noga Nir-Neeman, a TV news reporter and consumer programs editor and anchor

Users will be able to access the site at www.youtube.com/DoctorsChannelTube, or by scanning a QR code.