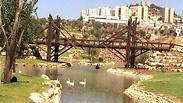 Biblical Zoo. 'No change in the status quo'
Photo: GPO
Jerusalem Mayor Nir Barkat has been asked by ultra-Orthodox activists to close the Biblical Zoo on Saturdays.

Members of the Rabbis' Committee for Shabbat, who are convinced that they are the ones who prevented Jerusalem's Cinema City from opening on Shabbat and led to the cancellation of transports from the city's neighborhoods to the Jerusalem Park on the day of rest, are setting their sights on a new target – the city's famous zoo.

In a recent meeting with Barkat on the desecration of Shabbat in the capital, the haredi representatives demanded that the mayor boost the enforcement activities against businesses operating on the holy day.

Offensive Request

Sign calling on customers to dress modestly while visiting haredi chain's Talpiot store taken down following local residents' complaints.

Barkat claimed that the Jerusalem Municipality had a limited influence on some of the businesses, but promised to work to reduce the activity of businesses operating without permits or against the municipal bylaws.

The activists didn't settle for that. Towards the end of the meeting, the committee's chairman, Rabbi Yitzhak Goldknopf, requested an explicit commitment to close the zoo on Saturday, as well as grocery stores which are open across the city.

Goldknopf asked for the commitment as a "holiday gift" to the haredi sector ahead of the holiday of Shavuot. "We want to accept the Torah with a declaration that we handled the desecration of Shabbat – the zoo has been taken care of and the grocery stores have been taken care of."

Goldknopf's list of demands also included the construction of a synagogue in Cedar Valley in the Jerusalem Park. The new demand follows a previous achievement recorded by the haredim in their battle for Shabbat: Cancelling organized transports from the city's neighborhood to the Jerusalem Park on weekends.

The transports were initiated by the Youth at the Center organization and funded by the Municipality-owned Jerusalem Development Authority. The initiative received the approval of the communal administrations before being cancelled. The organizers confirmed that the special transport services had been stopped, saying they did not know the reason for the cancellation.

The Biblical Zoo offered the following response: "We have not heard about the demand. We will continue serving our visitors."

The Municipality said in response that "there is no change in the status quo which has been implemented in Jerusalem for years. The mayor's office is not involved in transportation to events or in the zoo and is unaware of any change in the issue."